Yeezy Season 3 Livestream: How to Watch Kanye West's Fashion Line Reveal Online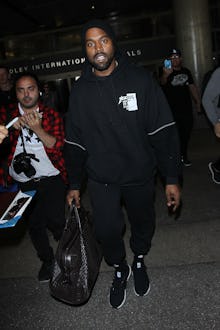 Vantagenews.com/AP
Thursday is a big day for Kanye West fans, as he unveils his newest album and third edition of his clothing line, Yeezy Season 3, at Madison Square Garden in New York. The event starts at 4 p.m. EST, and sold out in 10 minutes, according to People. But fans who didn't snag a precious ticket can still watch a livestream of the event on Tidal when it starts in real time. The livestream is also available below. 
Both West and Tidal announced the news over Twitter on Wednesday afternoon. "Livestream for all on TIDAL," West wrote. 
Read more:
West's involvement with Jay Z's Tidal had been spotty in the public eye. In April, he had defended the streaming service in a Paper magazine feature. "I heard a comment — a joke — about the Tidal press conference being an Illuminati moment," he told Paper magazine. "If there was actually an Illuminati, it would be more like the energy companies. Not celebrities that gave their life to music and who are pinpointed as decoys for people who really run the world. I'm tired of people pinpointing musicians as the Illuminati." But shortly after, he deleted any tweets supporting the streaming service, Complex reported.
At the event, West will reportedly play songs off his new album, which is mysteriously named T.L.O.P. (Fans who guess what the acronym stands could win free tickets to attend the show and a pair of his coveted Yeezys shoes.) 
The last option to see West's multi-release event is in select theaters across the United States and internationally. Tickets for U.S. screenings start at around $35 and can be purchased here.