This Is What It Looks Like When Beyoncé Sends You a Handwritten Thank You Card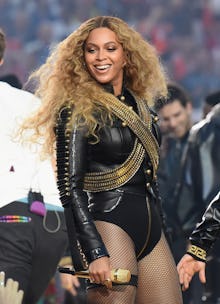 Jeff Kravitz/Getty Images
Queen Beyoncé made journalist Jenna Wortham the happiest person on the planet Wednesday when she sent a handwritten thank you note and flowers for a piece Wortham wrote about Beyoncé's new single, "Formation." 
Wortham tweeted out a photo of the card from Bey on Wednesday. The note reads, "Dear Jenna, thank you for the beautiful words you said about 'Formation.' Thanks for understanding my heart. Love, Beyoncé."
Read more:
Beyoncé's new song, an anthem of black power and black pride, dropped on Saturday along with a music video. The next day, Beyoncé performed the song at the Super Bowl halftime show — delivering an epic performance that referenced Michael Jackson and the Black Panther Party, which inspired an inevitable backlash from some on social media who accused Beyoncé of being "racist" and anti-police.
On Saturday afternoon, just after "Formation" dropped, Wortham, a writer for the New York Times magazine, contributed to a discussion about the song and video in which she fiercely defended — and celebrated — Beyoncé's vision of blackness.
"'Formation' isn't just about police brutality — it's about the entirety of the black experience in America in 2016, which includes standards of beauty, (dis)empowerment, culture and the shared parts of our history," Wortham said. "It's the blackest of black. It's not Pharrell's new black (no shade!) — it's your grandmother's black. Her idea of swag is keeping hot sauce in her bag while she's decked out in Givenchy."
That's a pretty #flawless move, Beyoncé.