Why Wasn't Beyoncé Nominated for a Grammy?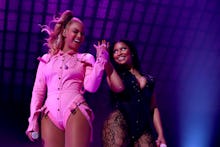 Mark Von Holden/AP
As the world awaits Beyoncé's forthcoming album and world tour, fans are wondering why Queen B was left out of music's most coveted night of the year, the 2016 Grammy awards. Though "Formation" missed the cutoff date for songs to be considered for the prestigious awards show, the singer's explosive "Feelin' Myself" remix with rap powerhouse Nicki Minaj dropped on Dec. 12, 2014. 
In order for a song to be considered for the 2016 Grammys, its release must have occurred between Oct. 1, 2014 and Sept. 30, which means Beyoncé and Minaj's release was perfectly capable of raking in the awards. But the Recording Academy didn't seem to be feeling it.
Read more:
Beyoncé hasn't been nominated for any category in the 2016 Grammys and she isn't scheduled to perform "Formation" or new music from her forthcoming album at this year's awards show. Her legion of online fans, lovingly referred to as the "BeyHive," was of course angered by the snub:
Queen Bey probably isn't too upset about this year's lack of nominations. After performing an explosive Black Panther-themed tribute to racial justice during the Super Bowl 50 halftime show, the artist announced her Formation World Tour and crashed several ticket sites in the process.
Meanwhile, Beyoncé's preparing the release of her next studio album, which might just stop the world the same way her self-titled 2013 surprise album did. 
Besides, Bey already has a whopping 20 Grammy awards as it is.