2016 Oscar Predictions: How the Nominees for Best Supporting Actress Stack Up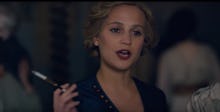 Mic/YouTube
At the Academy Awards, the acting categories can vary tremendously over how open the field is for the nominations. This year, the Best Actor award is near-universally recognized as Leonardo DiCaprio's to lose for his work in The Revenant. Other races, though, are much harder to call. In 2016, that would be the Best Supporting Actress — and each nominee has their own, distinct merits for which they deserve the award. 
Read more: 
Alicia Vikander — The Danish Girl: In the film, Vikander's character, artist Gerda Wegener's, husband (Eddie Redmayne) transitions into a woman. What makes the role — and Vikander's portrayal — so great is the unwavering support she has for her husband. Ultimately, the only glaring issue is that she has the screen time and appearance of a co-star, rather than a supporting actress, so Vikander likely deserves a best actress nod instead. 
"She proves astonishingly supportive towards her partner's plight," Ian Freer wrote in a review for Empire. "Vikander eats this all up with a spoon, by turns energetic, winning, raw and compassionate ... it seems she can do anything."
Rachel McAdams — Spotlight: McAdams' character is one of many moving parts — or really, reporters — of the Boston Globe's investigative unit in Spotlight, but it's her thorough investigative work and calm demeanor that's instrumental in the film's eventual unraveling of the child abuse scandal with Catholic priests in Boston. Mark Ruffalo, too, got a similar nod as supporting actor as a fellow reporter, as they both work the emotionally-charged investigation. 
"Rachel McAdams brings her typical resolute intelligence to Sacha Pfeiffer," Jessica Kiang wrote for IndieWire. "Whether quietly interviewing abuse victims or caught off guard coming face to face with one of the accused priests, she's entirely human and it's telling how often [director Tom] McCarthy chooses to resolve a scene on a look from her."   
Rooney Mara — Carol: Mara's character, a store clerk, has her life changed when she meets an older woman, Carol (Cate Blanchett), and the two develop an intimate, albeit complicated, relationship. Mara does an excellent job portraying a love-struck Therese, and it's in her stillness and curious, romantic fascination with Carol that she triumphs in the role. It's also a complete role reversal — all the way down to the physical appearance — from her previous Oscar nomination as Lisbeth Salander in The Girl with the Dragon Tattoo. 
"There are obvious asymmetries to be discovered in the relationship between a penniless young bohemian and a wealthy, full-grown matron, but Ms. Mara refuses to be the ingenue in the arrangement," A.O. Scott wrote for the New York Times. "She is vulnerable and hungry, timid and ferocious, predator and prey." 
Jennifer Jason Leigh — The Hateful Eight: Director Quentin Tarantino initially didn't write her role, but he's undoubtedly grateful for her portrayal as the wanted criminal Daisy Domergue. Though she's most left shackled and handcuffed from the first half of the film, as it progresses, finer points in the multilayered character are revealed. 
"It had been a long time since I had anything that made me really want to lose myself in a character, and [Daisy] demanded that of me," Jason Leigh said, in an interview with Entertainment Weekly. "Acting is something I loved so much, but I had sort of forgotten about it."
Kate Winslet — Steve Jobs: As the right-hand woman to the titular lead, Steve Jobs (Michael Fassbender), Winslet's character serves as a glorified moral compass for the often-controversial late Apple CEO. It doesn't always work — as evidenced in the film — but she's loyal toward him throughout. 
"Can anyone tame this perfectionist beast?" Peter Travers wrote for Rolling Stone. "Polish-born marketing chief Joanna Hoffman comes close. As played by the glorious Kate Winslet, award-caliber and radiating grit and grace, Hoffman is the one person ready to give shit to the boss."
While all assume great parts, obviously, there can only be one winner, and thus far, it looks to be a toss-up between Vikander and Winslet. According to FiveThirtyEight's Oscars prediction metrics, the two are neck and neck, with Vikander a slight favorite. However, the metrics did not account for the SAG Awards on Jan. 30, in which Vikander claimed the supporting actress win. What could ultimately help predict the winner — if it is to be Vikander — are the results of the BAFTA Awards, which will take place on Sunday.
If Vikander earns the supporting actress award, the Oscar win is a near-given. Conversely, if someone else grabs it, a hard-to-predict acting race becomes even more uncertain.