These Are the Songs Lady Gaga Should Sing in her Grammys Tribute to David Bowie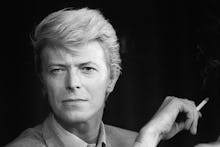 RALPH GATTI/Getty Images
Adjectives are inadequate when it comes to describing David Bowie. For many of his fans, he was just that good, and certainly, he defied easy categorization. That puts quite a bit of pressure on Lady Gaga, who will pay tribute to the Lazarus of pop at the Grammys on Monday night. She hasn't revealed her program yet, but she has been clear that it's going to be emotional for her.
"It's hard to talk about," Gaga told Extra's Mario Lopez. "I would never be here without him — I would've thought I was too weird — and I never gave up because I thought he was the coolest ever."
Read more:
Out of hundreds of songs, how does one decide which do Bowie's towering legacy justice? Does one run through the many hits or focus on their meaning? How does one strike a tone that's both tasteful and exuberantly over-the-top? There's no perfect formula. There are, however, predictions. These are ours.
"Heroes"
"Heroes" for a hero. Bowie recorded this song during his Berlin years; it appeared on his 1977 album of the same name. Of all his songs, "Heroes" was the most streamed on Spotify the day he died, as reported by the New York Times. The chances that she doesn't sing this one seem impossibly slim.
"Space Oddity"
Bowie's first hit, "Space Oddity," can be heard in the BBC's broadcast of the 1969 moon landing. The song also gave us Major Tom, a character who surfaces again in "Ashes to Ashes" (which could come up in the tribute, but seems a little on the nose to us) and "Hallo Spaceboy." It's iconic and a likely choice.
"Rebel Rebel"
Bowie's sexuality was an ambiguous thing — he identified as gay, bisexual and straight at different points in his life — that became a matter of media obsession. Lady Gaga, whose bisexuality has sparked a similarly polarizing public debate, is passionate about LGBT equality, so Bowie's glam rock hit, "Rebel, Rebel," seems a fitting choice for her homage. Following his death, Madonna and Bruce Springsteen both performed the song in elegy to the icon; if the "Rebel, Rebel" arena's too crowded, she could always go with a "Ziggy Stardust" or...
"Starman"
Because Bowie was a star of a man, "Starman" — off his 1972 album, The Rise and Fall of Ziggy Stardust — deserves some play. The song and the album "broke apart the common script of queerness as a perversion, an aberration, an anomaly," as Sasha Geffen of MTV wrote. "If it was unnatural to be queer, then 'Starman' was proof that the queer kids came from a world brighter than this one." 
"Let's Dance"
This performance is going to need some uplifting moments and "Let's Dance" would deliver. Plus, Gaga is all about the dancing — what better choice is there than this one? And according to the Times, it was the second-most popular Bowie song on Spotify following his death, probably because all anyone wanted to do was put on their red shoes and dance the blues.
"Lazarus"
Too soon, perhaps: Bowie released the video for "Lazarus" days before his death, a final goodbye to his fans. But the lyrics to "Lazarus" say it all: "This way or no way / You know I'll be free / Just like that bluebird / Now, ain't that just like me?"
"Oh, You Pretty Things"
Because it would make our collective day.