29 Fascinating Books for Black History Month You Never Got Assigned in School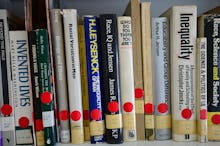 There are plenty of Black History Month book lists to teach you about Rosa Parks or Martin Luther King Jr. or the March on Washington and any other notable figures or milestones your teachers chose to lionize in your obligatory school-wide February assemblies.
This is not one of those lists.
Here you will find books by black authors that rarely get the shine they deserve — books that showcase the inventiveness and probing curiosity of the diaspora's sharpest creative minds, featuring underappreciated works by well-known writers and unique, often surprising perspectives you didn't know you needed in your life.
You might learn something. You might see a new perspective. You might realize you have been missing something essential all along. You might get so woke you will start to make people uncomfortable. In any case, you'll never be bored by the offerings listed below. 
Here are 29 of the most relentlessly interesting Black History Month books you probably didn't get assigned in school: 
1. My People Are Rising: Memoir of a Black Panther Party Captain by Aaron Dixon
The life and times of a Black Panther leader as he navigates the treacherous streets of... Seattle? That's right, Seattle. The fact that you've probably never read a story about black political radicalism in the Pacific Northwest is only part of why you should check out this unique memoir.
2. 1996 by Gloria Naylor
A fictionalized memoir about the author's trip to St. Helena, an island in the South Atlantic, where she is subject to an absolutely terrifying campaign of surveillance and all-out psychological warfare at the hands of a former U.S. government operative.
3. Passing by Nella Larsen
What, you ask, is the protagonist "passing" as? A white person, it turns out — even though she is black and living in 1920s Chicago and New York. Passing fictionalizes the social and psychological toll that pretending to be what you are not takes on you, and the book grows increasingly grim and murder-y as it rolls along.
4. Parable of the Sower by Octavia E. Butler
What if there was a person whose ability to feel empathy was so acute an entire religion formed around her? This is the idea behind sci-fi queen Octavia Butler's classic, which traces the journey of its 18-year-old protagonist through a dystopian American future.
5. I Love Myself When I Am Laughing... and Then Again When I Am Looking Mean and Impressive by Zora Neale Hurston, ed. Alice Walker
Arguably the best book title ever, which is fitting, considering its subject. This is basically an extended close read of the Harlem Renaissance master's essays, short stories and book excerpts — all guided by Alice Walker, also one of the brilliant black authors of our day.
6. This Nonviolent Stuff'll Get You Killed: How Guns Made the Civil Rights Movement Possible by Charles E. Cobb Jr.
It's as provocative as it sounds. Cobb's history book explores the often-ignored flip side of the celebrated nonviolent wing of the civil rights movement: armed struggle, especially as enacted by blacks in the Deep South during the 1960s.
7. How to Slowly Kill Yourself and Others in America by Kiese Laymon
This piercing, lyrical essay collection was a classic from the moment it dropped in 2013, exploring topics ranging from Kanye West's complex relationship with women to the author's own experiences with violence — all in the context of a nation seemingly hell-bent on destroying black bodies.
8. Ebony and Ivy: Race, Slavery and the Troubled History of America's Universities by Craig Steven Wilder
What better time than now to explore the ugly, tangled relationship between America's Ivy League schools and slavery — the bloody economy on which many of them built their wealth, all while pumping out "research" that justified the institution and its accompanying racial inequities?
9. The Ways of White Folks by Langston Hughes
Legendary poet Langston Hughes dips his pen into the world of short stories for this brutal, unflinching look at race relations in the U.S. during the Great Depression.
10. Negroland: A Memoir by Margo Jefferson
A singular, revealing, skillfully assembled look at a subset of society that's rarely committed to paper: That of the middle class, black Chicagoans during the mid-20th century.
11. The Light of the World by Elizabeth Alexander
Alexander wrote and recited the poem that was broadcast around the world as part of President Obama's inauguration in 2009. But her searing 2015 memoir details a much more intimate endeavor: navigating life, marriage and the sudden death of her husband, an Eritrean civil war survivor who became a chef and artist in the U.S.
12. The Known World by Edward P. Jones
It's hard to argue this didn't get the shine it deserved — it won the 2003 Pulitzer Prize for Fiction, after all — but the Mic committee insisted that Jones' novel about black slaveowners in pre-Civil War Virginia be included on this list regardless. This book had a remarkable impact.
13. God's Trombones: Seven Negro Sermons in Verse by James Weldon Johnson
Johnson reimagines seven black church sermons as poems, breathing vivid new life into the storied cultural tradition and import of the black church. 
14. A Small Place by Jamaica Kincaid
Kincaid's biting and expansive essay looks at the impact of colonialism on her homeland of Antigua.
15. The Palm-Wine Drinkard by Amos Tutuola
A book unlike anything you've read before, this outlandish, mesmerizing Nigerian tale about a lush who embarks on a journey to resurrect the dead man who used to make his palm wine is as fun to read as it is difficult to forget.
16. Die Nigger Die! by H. Rap Brown
Come for the arresting title, but stay for the story that follows: This is the forceful, dizzying memoir of H. Rap Brown, a former leader of the Student Nonviolent Coordinating Committee who's currently serving a life sentence in prison for the shooting of two Fulton County, Georgia, sheriff's deputies in 2000.
17. Beneath the Underdog by Charles Mingus
A relentlessly creative memoir more than worthy of its author — Charles Mingus, the legendary jazz double bassist who, over the course of his life, became as well-known for his temper as he was for his music.
18. The Evidence of Things Not Seen by James Baldwin
The incomparable Baldwin shifts his gaze to the city of Atlanta, where a string of child murders in the late 1970s and early 1980s laid bare a darker side of the noted black mecca.
19. All About Love: New Visions by bell hooks
Hooks is one of the premier feminist scholars of this or any other era, and her piercing examination of how to find love in a society that fails to teach us how is one of her more surprising and brilliant offerings.
20. No Telephone to Heaven by Michelle Cliff
A restless, globe-hopping meditation on race, colonialism, politics and mythology, all rooted in the history of the author's ancestral home: Jamaica, which gets one of its more memorable novelistic treatments in Cliff's book.
21. Men We Reaped by Jesmyn Ward
Ward's memoir, which looks at the deaths of five men close to the author in her hometown of DeLisle, Mississippi, is another one that's been widely acclaimed. It is a vivid look at the toll of racism and poverty on black America and is too important to keep off this list.
22. Atlanta: Hip-Hop and the South by Michael Schmelling and Kelefa Sanneh
Sanneh's insightful words are the perfect complement to Schmelling's vibrant, colorful photographs documenting the culture that has proven inseparable from the identity of black Atlanta since the 1990s: hip-hop.
23. Revolutionary Suicide by Huey P. Newton
A forceful but often overlooked classic from the late civil rights era, this sharply written, surprisingly idealistic memoir details the early days of Huey P. Newton's life in Oakland, California, where he co-founded the Black Panther Party for Self-Defense along with his friend Bobby Seale in 1966.
24. Destined to Witness: Growing Up Black in Nazi Germany by Hans J. Massaquoi
The title says it all. Perhaps no more strikingly singular memoir about life under the Third Reich exists than this story by a former managing editor of Ebony magazine, who grew up in Hamburg during the 1930s and 1940s with his white German mother during Hitler's rule.
25. Zami: A New Spelling of My Name by Audre Lorde
Lorde's poetic and inventive coming of age tale about growing up black and lesbian in late 1950s Harlem remains one of her most personal and beloved works.
26. The Farming of Bones by Edwidge Danticat
A tense, bracing novel about a Haitian woman in the Dominican Republic who falls in love with a field worker against the backdrop of Rafael Trujillo's ruthlessly violent dictatorship.
27. They Came Before Columbus: The African Presence in Ancient America by Ivan Van Sertima
Using historical documents and eye-opening archaeological evidence, Van Sertima builds a remarkably convincing — if widely disputed — case that black West Africans visited the so-called "New World" long before Christopher Columbus did. It may not be true, but it's fascinating nonetheless.
28. Black Panther: The Revolutionary Art of Emory Douglas by Emory Douglas
The Black Panthers relied heavily on building an iconic visual presence, and few people had more impact on shaping it than Emory Douglas, the organization's in-house illustrator. Behold his striking multimedia artwork, collected in one book for the world to see.
29. Paradise by Toni Morrison
It's hard to argue that anything written by the legendary Toni Morrison is "underappreciated," but her 1997 novel about fugitive women who find solace and community on the outskirts of an all-black Oklahoma town stands among her most towering works.