12 Movies About Female Friendship You Should Watch on Galentine's Day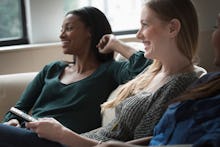 Let's face it: Valentine's Day blows. It's expensive and silly and seems to exist solely to make single people feel like they're fated to die alone, with nothing but nine cats and hundreds of empty cans of tuna fish by their side. Galentine's Day, however, the Feb. 13 holiday coined by Parks and Recreation's Leslie Knope that celebrates female friendship, is awesome — and what better way to spend it than cuddling up with your bestie and a good movie?
Unfortunately, good movies about female friendship are few and far between. After all, there's a reason the Bechdel Test exists: It seems like every movie ends with a (heterosexual) couple riding off into the sunset, their friends abandoned on the sidewalk. And there's nothing that could be less in the spirit of Galentine's Day than that. 
We all know the best type of "chick flick" isn't centered around a man. So this Feb. 13, celebrate by watching a movie about one of the truest loves there is: the love between best friends. 
1. Bend It Like Beckham
Bend It Like Beckham takes friendship and female empowerment to the next level. Best friends Jess and Juliette love soccer, but Jess's Indian family wants her to pursue a more feminine activity. If you and your BFF love sports, or just enjoy British accents, this is probably the movie for you.
Where to watch: You can rent it on Amazon.  
2. Fort Tilden
This 2014 indie film follows two women attempting to get to the beach from New York City. While that might not sound like much of a plot, there's more to the story than you may guess. Their journey together is unnervingly relatable, so be warned that the film could trigger a quarter-life crisis. 
Where to watch: You can buy it on Google Play.
3. Bridesmaids
Consider this 2011 comedy a lesson in how not to behave when your bestie gets married. 
Where to watch: You can rent on Amazon.
4. Mona Lisa Smile
In this 2003 film, Julia Roberts plays an empowering professor at Wellesley College in the 1950s. As her students face the pressure to become housewives, she brings them together to follow their passions. The film is a call to throw your Valentine's Day expectations out the window and embrace the power of sisterhood instead.  
Where to watch: You can stream on Netflix. 
5. Sisterhood of the Traveling Pants
Blake Lively, America Ferrera, Amber Tamblyn and Alexis Bledel in one movie. Oh, and there's a pair of jeans that magically fit them all. Need I say more?
Where to watch: You can rent it on Amazon. 
6. Mean Girls
This one needs no explanation. 
Where to watch: It's available to rent on Amazon and Google Play, but it's also literally on TV constantly, so take your pick.
7. Thelma & Louise
After defending themselves against a violent attack, Thelma (Geena Davis) and Louise (Susan Sarandon) go on the run from the law and take their lives into their own hands. Even while their lives are at stake, they're bold and uncensored. It's Davis and Sarandon at their best — and you'll even get a sneak peek at a young Brad Pitt (and his butt) on the way.
Where to watch: You can rent it on Amazon. 
8. The Sapphires
Based on a true story, The Sapphires follows four Australian Aboriginal female singers. When they're discovered by a talent scout, they leave to entertain U.S. troops in Vietnam in 1968. As they're pushed into new cultures and new situations, the women rely on each other to stay balanced. It's charming and sassy — just like the best kind of friend. 
Where to watch: It's available to rent on Amazon. 
9. Frances Ha
This is the perfect movie for recent grads still trying to find out how they fit in the world and how to make their friendships work when they don't live down the hall from their best friends anymore. Frances' struggle is eerily relatable and, honestly, slightly depressing. But if you and your friend have drifted apart, this could be just the movie to inspire a fresh start. 
Where to watch: You can watch it on Netflix. 
10. Frozen
Yes, Elsa and Anna are sisters, but the whole movie demonstrates that the love between women is just as strong — if not stronger — than romantic love. It's the perfect movie for longtime BFFs — just try not to let your 8-year-old cousin's obsession with "Let It Go" get in the way.
Where to watch: You can rent it on Amazon or iTunes. 
11. John Tucker Must Die
Sometimes, there's nothing better to bring women together than shared hatred of a man. John Tucker Must Die shows what happens when four women discover they're all dating the same man and plot their revenge against him. It's a strong choice if either you or your BFF is still recovering from a breakup (just try not to take the plot to heart). 
Where to watch: You can rent it on Amazon or iTunes.
12. The Heat
When a straight-edge FBI agent and a rule-bending Boston cop come together, you know you're in for an entertaining (if not somewhat generic) ride. Sandra Bullock and Melissa McCarthy are the duo you never knew you needed, proving that sometimes the best (and most entertaining) friends are polar opposites. 
Where to watch: It's available to stream on Amazon.