Trevor Noah Just Ripped Kanye West Apart for His Tweet About Bill Cosby's "Innocence"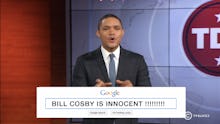 Hijacking Taylor Swift's MTV Video Music Awards acceptance speech; declaring former President George W. Bush has no regard for black people; going on a seemingly endless rant about his ingenious idea for leather jogging pants: Kanye West has done a lot of things which have made people cringe over the years. 
But his latest may be his most disconcerting when on Tuesday via Twitter he declared Bill Cosby's innocence, despite the more than 50 women have come forward, accusing him of sexual assault. 
The veracity of these allegations hasn't really been up for popular debate, given both the testimonies of his accusers and with Cosby's own admissions that he drugged women with sedatives with the intent of having sex with them.
But eponymous host of the Daily Show With Trevor Noah was having none of this and used Wednesday night's episode to ream West out for his highly questionable proclamation. 
"We all saw what happened last night and, I'm not going to lie, it blew my mind," Noah said, suggesting he was referring to Donald Trump's primary victory in New Hampshire. "I mean between his ego, his divisive, purposefully inflammatory statements, it's insane that he still has supporters. Honestly, I don't know what to say at this point. I mean, I don't know what America is going to do about Kanye West."
Noah proceeds to display a healthy dose of outrage at the tweet, declaring, in no uncertain terms, "Bill Cosby is one of the least innocent people of all time."
And it wasn't just Noah who got riled up. Despite the nearly 50,000 favorites West's tweet received, he also provoked a downpour of ire:
West's comments also come as a tremendous disappointment to all those who have vehemently campaigned to quash victim blaming in sexual assault cases over the years. 
No one knows what's going to come next out of the wild West. 
Watch the segment here:
Source: Comedy Central