Who's Pablo? The Meaning of 'The Life of Pablo,' Kanye West's Album Title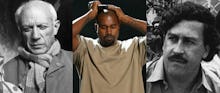 Mic/AP
The Life of Pablo, but which one? That's the question everyone is asking — including Kanye West himself — after the rapper publicly announced he would be changing his forthcoming album title yet again ahead of its Thursday unveiling in New York City. Yeezy teased the track list on Twitter for his upcoming album Wednesday night, writing the new title at the top of the page and "which one?" with a different-colored pen. 
West's next album will have the previously released "Wolves" featuring Vic Mensa and Sia, as well as the rapper's latest "Real Friends." 
Read more:
But who is the Yeezy Pablo? Fans were confused as hell when his wife, Kim Kardashian-West, polled Twitter users about what album name they'd like West to use, including Swish, Waves and So Help Me God; then, in pure Yeezy fashion, West decided none of those were worthy and instead dedicated his latest album to a mysterious first name. 
Who could be so deserving of such a distinct honor from the man, the myth and the legend himself?
Pablo Escobar
In "No More Parties In LA," one of Yeezy's most recently released singles, the rapper states, "I feel like Pablo when I'm working on my shoes/ I feel like Pablo when I see me on the news/ I feel like Pablo when I'm working on my house/ Tell 'em party's in here, we don't need to go out."
When powerful Colombian drug lord Pablo Escobar negotiated the rules and regulations surrounding his own arrest, the notorious felon somehow managed to get his government to agree to him building his own personal prison, dubbed "La Catedral." The cartel leader's prison was essentially a party mansion, complete with a basketball hoop, incredible views and a helicopter landing pad. 
We imagine Yeezy's mansion to be somewhat similar in aesthetic. Moreover, when 20-year-old Dante Holley was able to correctly guess West's next album title after he tweeted "T.L.O.P." as a clue, Holley told MTV News he felt the name dedication was a shoutout to the drug lord Netflix produced an original series about.
Pablo Picasso
Throughout his time making extremely self-confident speeches to fans and anyone willing to listen, West has often touted himself as one of history's greatest artists. At a packed Oxford University event in Britain in early 2015, West described which of the world's most famous artists he thinks he would have become had he not started rapping. 
"My goal, if I was going to do art, fine art, would have been to become [Pablo] Picasso or greater," West said, according to a transcript Complex reported in March following the event. "That always sounds so funny to people, comparing yourself to someone in the past that has done so much, and in your life you're not even allowed to think that you can do as much. That's a mentality that suppresses humanity."
2015 wasn't the first time West compared himself to the famous artist, however. "No matter how they try to control you, or the motherfucker next to you tries to peer pressure you, you can do what you motherfucking want," West said during an explosive 2013 rant at a concert hall in Paris, NME reported. "I am Picasso. I'm Walt Disney. I'm Steve Jobs."
As the world awaits The Life of Pablo, as well as the release of the artist's latest fashion line, Yeezy Season 3, one can only ask: Is Yeezy one step closer to becoming one of the most notoriously gifted artists ever known, or has he just lost his mind?
Feb. 11, 2016, 11:03 a.m. Eastern: This story has been updated.