"Hair Tattoos" Are the Latest Undercut Iteration for the ~Indie Girl~ in All of Us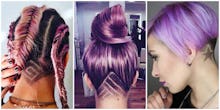 Blame Kylie Jenner. In October, Jenner, who has yet to be prove that she's not just a Bratz Doll with a pulse, was seen wearing something called a "hair tattoo." They were metallic, they looked completely impractical and everyone loved them.
Now, the term "hair tattoos" is being used for something else completely, thanks to the ever-so-stylish Ruby Rose-approved undercut.
Undercuts, of course, are nothing new, having dominated as the interwebs' edgy female hair trend of choice a few years ago. What is newer is women shaving designs into the already shaven-down hair at back of the neck or the side of their head, which can create a pretty badass-looking "reveal." 
What so many basketball players (and Kanye West) have been doing for years is now getting an undercut-specific makeover and called a #HairTattoo — and there are over 68,000 Instagram pics currently tagged that way.
There are geometric shapes... 
... and lotus flowers...
Then... uh, the "fun ones." 
It's a look that's all about the surprise. Flip your hair to one side, and people just think you're a regular cool girl with blue and black hair. But then flip your locks up and you can reveal you're actually a super cool girl with blue and black hair, and a hair tattoo. 
Sure, women have experimented with the look before. Now it has a name, and a catchy hashtag-worthy one at that. At a time in which we're obsessed with both viral hair trends — from dyeing to braiding — and tattoos, it was only a matter of time until the two intersected, really. So, anyone wanna take bets on when Jenner will experiment with this look herself? We're putting $10 down for this week. 
h/t HuffPost U.K.