Finally, There's a Tesla That's Priced Like Normal Cars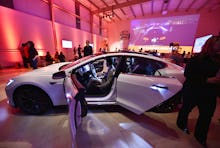 Wanna buy a Tesla but don't have a hundred grand to burn? That's all changing: Elon Musk's fully electric luxury cars are finally within a price range you might be able to grasp. Starting at the end of March, consumers will be able to preorder the Model 3 for $1,000 down. 
Buying a Tesla isn't just about buying an electric vehicle. These cars will soon be able to drive themselves. The Model 3 will start at $35,000 — far below prices for Tesla's S and X models, which start at $69,000 and $80,000 respectively. That means these all-electric vehicles will soon be available to more than just the tech elite. 
The Model 3 price tag doesn't include any incentives you may be entitled to through federal and state programs. For instance, buyers in all states can qualify for $7,500 in tax credits. But some states offer potential customers even more reasons to go electric (or hybrid) — including additional tax credits and access to carpool lanes. What that means for car buyers? You can potentially have a Tesla for less than $30,000.