Will Chris Rock Boycott Hosting the Oscars? Here's What We Know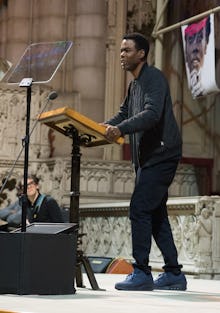 Noam Galai/Getty Images
Amid the fervor of the #OscarsSoWhite controversy, comedian Chris Rock has faced pressure to step down as Oscars host. Considering an all-white Academy Award nominee pool for acting, among other disproportionate categories, the likes of Will Smith and Spike Lee have announced their own boycotts of the Feb. 28 show. Others like 50 Cent and Tyrese Gibson have called for Rock to follow suit.
"Chris, please do not do the Oscars," 50 Cent wrote in a since-deleted Instagram post. "You mean a lot, man, don't do it."
Yet even with the push from his peers, Rock has maintained that he will keep his hosting duties for the broadcasting, according to Entertainment Tonight. Instead, the comedian is retooling his Oscars monologue in response to the growing concerns regarding representation in the film industry's most prestigious awards.  
"Chris is hard at work," Academy Awards producer Reginald Hudlin said in an interview with Entertainment Tonight. "He and his writing staff locked themselves in a room. As things got a little provocative and exciting, he said, 'I'm throwing out the show I wrote and writing a new show.'"
Read more:
It's not the first time Rock has addressed race and the Oscars in his comedy, either. In fact, the last time he hosted the Academy Awards, back in 2005, he filmed a still-relevant segment at the Magic Johnson Theater in Los Angeles asking black moviegoers how many of the Oscar-nominated films they had seen. It exemplified a growing divide between what the academy deemed a good film and what a more inclusive audience finds appealing.
Furthermore, having a black host at the Academy Awards in the midst of #OscarsSoWhite might actually be a good thing. Ali LeRoi, a writer who was on Rock's staff at the 2005 Oscars, said it gives him a voice as host that lets him, essentially, get away with saying anything he wants.
"If this was Neil Patrick Harris ... it would be two minutes of 'Oscars-are-so-white' jokes," LeRoi said in an interview with NPR. "But everybody's going, 'Oh my God, it's Chris Rock. What's he gonna do?'"
While it's unclear what direction Rock will take before the awards show, if his past hosting and overall social commentary as a comedian is any indication, he won't be afraid to speak the truth. Already he's addressed the controversy, albeit in just a snippet. The tweet below is a quick and promising glimpse for what's to come.