Catholic Church Allegedly Tells Bishops There's No Obligation to Report Child Sex Abuse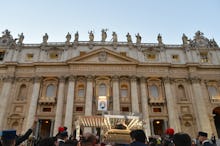 That the Catholic Church has a long, tragic history of child sex abuse is well known. In 2014, Pope Francis estimated that 1 in 50 Catholic clergyman are likely pedophiles — amounting to about 8,000 priests in churches globally. The pontiff has said he was dedicated to addressing the dark mark on the church, but a new development may undo all of that.
According to Crux, the Catholic Church has a new message for its clergy when it comes to sexual abuse: Keep it quiet. As part of a training course for new bishops, French Monsignor Tony Anatrella is reportedly informing the recently ordained that they have no duty to report allegations of sexual abuse to the authorities. Instead, Anatrella, who is also a psychotherapist known for his controversial views on gender and sexuality, argued that the decision to alert authorities should rest with victims and their families.
According to the Guardian, which obtained a copy of Anatrella's training manual, "According to the state of civil laws of each country where reporting is obligatory, it is not necessarily the duty of the bishop to report suspects to authorities, the police or state prosecutors in the moment when they are made aware of crimes or sinful deeds."
Read more:
This is all despite a task force the pope created in March 2014 to address the issue. At the time of its inception, the commission's aim was said to protect youth by "taking criminal action against offenders, educating people about the exploitation of children, developing best practices to better screen priests and defining the civil and clerical duties within the Church," the Irish Times reported, citing a statement from the Vatican.
But in an ironic twist, Crux reported that last year the commission wasn't involved at all in the clergy training, despite its purpose to identify what the outlet called "best practices" in combatting sexual abuse in the Catholic Church.
"Among the 2% who are pedophiles are priests, bishops and cardinals," Francis told Italy's La Repubblica in 2014, according to the BBC. "Others, more numerous, know but keep quiet ... I find this state of affairs intolerable."