Michelle Obama Celebrated Black History Month in the Best Way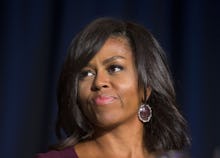 From waging a war on childhood obesity to advocating for girls' global education, Michelle Obama has accomplished much during her time as FLOTUS. But the first lady has been particularly lauded for her love of dance — a passion she recently incorporated into the White House's celebration of Black History Month. 
In the spirit of the White House's Black History Month theme, "Honoring the Past While Celebrating the Present," Obama invited black dance superstars like Debbie Allen, Virginia Johnson and Fatima Robinson to choreograph routines for over 50 young female dancers. 
On Monday, the dancers performed these stunning routines at the White House.
Obama's decision to highlight dancers of color does much to add to a growing effort to diversify the dance world. Black dancers have been historically underrepresented in this nation — a point Misty Copeland, the first black woman to be named a principal dancer at the American Ballet Theater, has previously noted and also seeks to combat.
It's a mission Obama knows well and seeks to support, which she summarized in an Instagram post after Monday's White House event. As she put it, "We have the power to keep reaching higher and defying the odds until a black principal dancer is no longer a cause for headlines and our children are limited only by the size of their dreams and their willingness to work for them."
Watch the full presentation below: