There's a Surprising Difference Between Republicans' and Democrats' Sex Lives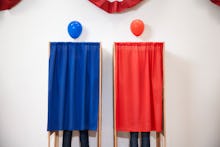 Just in time for presidential primary season, here's a question: Does your political affiliation have anything to do with your sex life?
According to data released by dating app Clover, it just might.
After surveying 700,000 of its users on their political affiliations and romantic histories, the app found that Republicans and Democrats are likely to have drastically different sexual proclivities. Insert some kind of bipartisan/bisexual joke here!
"Since Valentine's Day is just around the corner and we're in the middle of the presidential primaries, we thought it would be fun to see if we could dig up some data that might help singles find a date who share their political views," Clover wrote in a press release sent to Mic. "This guide should also help those considering crossing the party line just to sleep with the enemy."
According to the app's data, Democrats are twice as likely as Republicans to be into smoking weed and are 30% more likely to have casual sex, none of which is super surprising. Also unsurprising is the fact that the Republicans surveyed were twice as likely to have shot a gun than Democrats, as well as 200% more religious and 55% more into country music.
But now for the juicy lil' plot twist!
"Republicans have sex outdoors 50% more than Democrats," the press release says.
Those animals.
Given the finding that Republicans statistically are into religion and country music, it kinda makes sense that they'd be prone to getting frisky in the wild. If you're growing up in a strict religious household, why would you risk getting caught boning in the bedroom when you could just play it safe and run two miles into the woods for a secluded, rustic rendezvous?
Meanwhile, country music is all about doing shit in fields and under the glow of the moonlight. "Only the truck and the trees gonna see what we do," pop-country starlet Kelsea Ballerini coos on her 2015 slow jam "Looking at Stars," which is all about driving out to a remote creek and getting it on.
The idea of doing it outside isn't exactly the most appealing when you think about stuff like insects or extreme temperatures (or if you happen to be in the mountains, wild moose). But previous data has indicated that the discrepancy between Republican and Democrat sexual tastes might be part of a wider trend; in fact, conservatives might be having more fun in bed than liberals might expect. 
A Match.com study done this month about the sex lives and political leanings found that Trump supporters in particular were "99% more likely than [Hillary] Clinton fans to have a sex tape of themselves, and 1,104% more likely to expect 'sexual contact' on a first date," Refinery29 reported. Plus! A 2012 study found that all this sexual contact has a not-too-shabby orgasm rate, with over 50% of Republicans reporting that they climax almost every time during sex, as compared to 40% of Democrats who said the same.
Coincidence? Probably. But if you've been having difficulty hitting your multi-orgasmic goals lately, maybe take a walk on the wild side this Valentine's Day weekend and do it in the dirt. Ya never know!