Meghan Trainor Music, Albums and What to Know About the Grammy Nominee for Best New Artist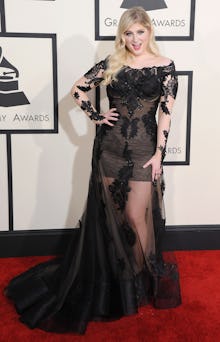 Jon Kopaloff/Getty Images
Meghan Trainor is nominated for best new artist for Monday's 58th Annual Grammy Awards. But many have been familiar with the chart-topping singer-songwriter since 2014 when she gained major airplay on the radio, so why does Trainor qualify for the Grammys best new artist category? 
Read more
Her breakout hit single, "All About That Bass" was already nominated in 2015
Trainor was nominated for record of the year and song of the year at the 57th Annual Grammy Awards in 2015. The song appeared on Trainor's Title EP — released Sept. 9, 2014 — falling within the Grammy eligibility period between Oct. 1, 2013, to Sept. 30, 2014. 
Trainor would go on to release a full-length album by the same name in the second week of January, falling within the eligibility period between Oct. 1, 2014, to Sept. 30, 2015, for the 58th Grammy Awards. The album also spawned two additional hits: "Like I'm Gonna Lose You," her collaboration with John Legend, and "Dear Future Husband," whose video includes a cameo by eventual collaborator Charlie Puth.
Then how is she "new"?
Trainor's nomination for best new artist for the 2016 ceremony is a controversial one. When the nominations for the 58th Grammy Awards were announced in December, Mic reported on Trainor's perplexing designation as a new artist; not only had she released music in 2014, but the Grammys itself nominated her for said releases.
Her nomination for best new artist can be traced back to Lady Gaga, who was ineligible for best new artist in 2010, due to her breakout hit, "Just Dance," being nominated for best dance recording for the 2009 awards. The Guardian reported that the National Academy of Recording Arts and Sciences has since revised its old rule of disqualifying artists as new if they had been previously nominated for an award. Under the new rules, Trainor is eligible because she didn't win her previous two nominations and her debut album fell within the eligibility period.
She does have new music coming out!
Fuse reported Feb. 1 that Trainor's single "No," from her follow-up album Thank You, will be released in March. For what it's worth, it will be eligible for the 59th Grammy Awards.