Here Are the 5 Best Apps for Budgeting and Personal Finances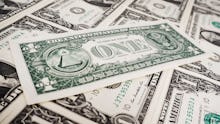 Pictures of Money/Flickr
Getting your finances in order is no easy feat, and it's easy to brush off the stress by "doing it later" — until you check your bank account and realize you spent $200 on burritos. Luckily, there are handy apps to help keep track of every dollar earned and spent. This is especially helpful, considering it's so easy to spend buckets of money with smartphones apps like Uber, Venmo and Seamless.
Read more:
The best personal budgeting apps are the intuitive ones that don't feel restrictive and seamlessly blend into your lifestyle, according to the New York Times. "Look for structural solutions or things that change your environment so you don't need to be constantly vigilant," Stephen Wendel, then a behavioral social scientist at HelloWallet, told the Times in 2014. (HelloWallet has since been acquired by Morningstar, where Wendel serves as the head of behavioral science.)
From an app that saves money without you even noticing to one that gives you a total breakdown of every dollar spent, here are the top five apps for getting your personal budget in check:
This free app wants you to understand how you are handling your money. It breaks down your expenditures into categories that can be seen in daily, weekly or monthly views. It also lets you scan any receipts so everything really is all in one — and with minimal effort. 
Digit is an intuitive app that tracks spending habits and then withdraws a few unnoticeable dollars from your checking account into a separate savings account, that could one day come in handy. It's also totally free to withdraw from that savings account. 
For those who think credit scores are an abstract concept, Billguard is there to help break that barrier down by analyzing and tracking every transaction (and comparing it to previous months). But the free app's key feature is that not only does it show your credit score, but it tells you what factors are affecting it. With safety as a priority, Billguard also monitors when your card is being suspiciously used somewhere else. 
For a super visual breakdown of your finances, download Spendbook for $1.99, which puts your spending and earning into graphs. Although transactions need to be manually inputed, users can set reoccurring expenses. They can also add notes and view all expenses in a calendar format. 
Mint is one of the most popular personal financing apps, and is brought to users by fellow finance programs TurboTax, QuickBooks, Mint Bills and Quicken. The free app reviews day-to-day spending, warning users when they are exceeding their self-set budgets (in different categories too). It also shows users' spending trends. And in case a phone is lost, Mint comes with a 4-digit PIN code.