Meet Tori Kelly, the Talent Show Kid Turned YouTube Star Turned Grammy Nominee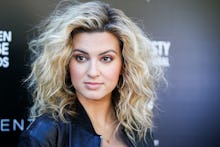 Rich Fury/AP
The "most famous" contact in singer-songwriter Tori Kelly's phone is Ed Sheeran, she told Vevo in May, but that'll likely change soon. The once YouTube musician is on the precipice of a major breakthrough in her career with a nomination for the 2016 Grammy Awards' best new artist, an award Sheeran was nominated for in 2014, for her first full-length album Unbreakable Smile.
"I always kind of knew that I wanted to be a singer, even from the age of 3," Kelly told Vibe in 2015. "My parents say that I was singing all the time. That's all I knew as a kid; I just knew music was second nature to me."
Read more:
Star Search to American Idol: The 23-year-old California native started on the path to fame at the ripe age of 10, when she appeared on the first TV singing competition Star Search, according to Billboard, America's Most Talented Kid in 2004 and on the ninth season of American Idol (she didn't make it to the final 24) before posting original songs and covers to YouTube. 
To YouTube: After garnering 700,000 followers, and 17 million views on her beatbox cover of Frank Ocean's "Thinking About You," Kelly released an indie album, Handmade Songs by Tori Kelly in 2012.
"I always wanted to make sure people knew me as an artist first," she told Vibe. "I remember consciously thinking, 'OK, I'm gonna post this cover right now, and then immediately after, I'm gonna give people this original that I just wrote.'"
To a full-length album: The album's success gave her the opportunity to open for Sheeran and Jewel. Kelly eventually hired Justin Bieber's mentor, Scooter Braun, as her manager and signed a deal with Capitol Records, which released her first studio EP in 2013 and then 2015's Unbreakable Smile that catapulted her into the limelight. 
Kelly solidified her vocal talent to an even wider audience with a powerhouse performance of her single "Should've Been Us," in which she went a cappella for the last chorus, at the 2015 MTV Video Music Awards.