9 Teen Stars Who Are Showing Adults What Being Famous in 2016 Should Look Like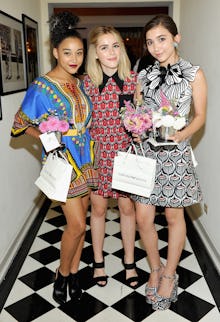 To be a star in 2016 requires a complex recipe of attributes. You must be smart on social media, consistently working (but not overexposed) and good at giving a unique kind of interview to break through a glut of entertainment news. But perhaps most important of all is something very new to the celebrity scene: You must be socially aware.
Social justice awareness wasn't previously a celebrity prerequisite. Yet if there's anything the minor scandals around celebrities like Kate Winslet, Matt Damon, the Coen brothers and more can teach stars, it's that minding what they say is vital. Were any of their comments particularly offensive? Did outraged fans online blow things out of proportion? That's subjective. What's objective is that these firestorms happened. People cared.
Compare those celebrities in hot water with the stars who are redefining cool. They're passionate about social causes and savvy about the internet. Most important of all: They're young. Teens, actually. Teens are changing the celebrity game in 2016, fighting against the pitfalls of youth. Being famous as a young person is hard, but these nine are acing it; it's time to stand up and take notice.
Read more: Ariel Winter Is Not Ashamed of Her Breast Reduction Scars — But Thanks for Your Concern
Ariel Winter
Age: 18
What she's known for: She plays middle child Alex Dunphy on Modern Family. 
What her causes are: She's spoken out passionately about her breast reduction surgery to help fight the stigma. She also took Vine star Nash Grier to task for his previous homophobic and racist videos.
What she said: "As women in the industry, we are totally oversexualized and treated like objects," she told Glamour. "Every article that has to do with me on a red carpet always had to do with 'Ariel Winter's Crazy Cleavage!' Or 'Ariel Winter Shows Huge Boobs at an Event!' That's all people would recognize me by, not, 'Oh, she does great work on Modern Family.'"
Amandla Stenberg
Age: 17
What she's known for: She's probably best known for playing Rue in the original Hunger Games. She's also a musician.
What her causes are: Stenberg is a passionate intersectional feminist. She's masterful at taking down her trolls and is unafraid of criticizing even the most high-profile stars for their cultural appropriation. Additionally, she recently came out as bisexual.
What she said: "Racism is still alive and flourishing and even though we don't see it in the same way we used to, it exists," she told Mic. "It's often subconscious: It's the way we treat each other and the assumptions we make without thinking."
Rowan Blanchard
Age: 14
What she's known for: She's the titular "Girl" of Girl Meets World.
What her causes are: Like Stenberg, Blanchard is remarkably knowledgeable about intersectional feminism. She's thoughtful about how harmful #SquadGoals can be, came out as queer recently and has been very transparent about her life with depression.
What she said: "As I found myself, this year in particular, going through ups and downs with depression, I realized that instead of rejecting and ostracizing these teenage feelings (human feelings), I can learn to love the intensity of them and know that everything is momentary," she wrote on her Instagram.
Kiernan Shipka
Age: 16
What she's known for: She played Don Draper's daughter Sally on Mad Men.
What her causes are: Shipka joined the No More campaign in 2013 to fight against campus sexual assault. She is, unsurprisingly, a huge fan of and close friends with Stenberg, Willow Smith, Lorde and other savvy teens, but puts forth a healthy definition of what that friendship means.
What she said: "Friendships are this fun team," Shipka told Dazed. "You get to have partners in crime. We all have different views, but we get along well. It's totally cool to disagree."
Jaden and Willow Smith
Ages: 15 (Willow) and 17 (Jaden)
What they're known for: You may have heard of their father. Besides Daddy Will, however, Jaden is an actor in his own right, and Willow is a singer who performed the hair-whip heard 'round the world.
What their causes are: Jaden has been experimenting recently with gender fluidity in fashion. Willow is similarly interested in such fluidity, according to a quote Jaden gave to T Magazine. She's also on the front lines of freeing the nipple.
What they said: ""I just want to teach people how to be comfortable," Jaden told GQ. "Stop being so scared."
Jazz Jennings
Age: 15
What she's known for: Perhaps the only star on this list whose celebrity comes primarily from her activism, Jennings was a YouTuber and one of the youngest high-profile people to come out as trans. She now has a show on TLC, I Am Jazz, that chronicles her life.
What her cause is: She's active in the fight for trans rights, naturally, but Jennings is also openly pansexual. She's frank about her gender and sexual identity, especially for a 15-year-old.
What she said: "'You know, I'm not just a transgender individual, I'm also Jazz,'" she explained to Blanchard in an interview for Dazed magazine. "I'm a soccer player, I'm an artist, I love to be creative. ... I love to do all these different things, and being transgender is just 1% of who I actually am."
Lorde
Age: 19
What she's known for: And we'll never be rooooooyalllllls...
What her causes are: She's been open about her sex positivity in the past, particularly explaining how that positivity can coexist with her often sharp criticisms about the sexualization of pop music.
What she said: "People like to paint me in a certain way, but I'm a hugely sex-positive person and I have nothing against anyone getting naked," she told V Magazine. "For me personally, I just don't think it really would complement my music in any way or help me tell a story any better. It's not like I have a problem with dancing around in undies — I think you can use that stuff in a hugely powerful way. It just hasn't felt necessary for me."
Maisie Williams
Age: 18
What she's known for: Game of Thrones, of course! She plays Arya Stark on the HBO hit.
What her causes are: Williams has previously spoken out about the thinness of some roles for women in Hollywood — a major cause of the moment in the industry.
What she said: "I didn't realize when I was younger that women were written so badly, but going further into this career I realized there are a lot of really bad characters, that it's not common to come across females who aren't just 'the girlfriend," she told Radio Times.