Valentine's Day: How Much Does Hallmark Make Selling Greeting Cards?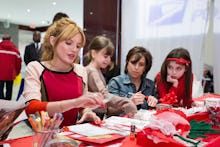 Dario Cantatore/AP
Valentine's Day is right around the corner on Feb. 14, and when shopping for a card for their significant other, many Americans turn to one of the most trusted names in the business: Hallmark Cards. The company started to produce and sell their own Valentine's Day cards in 1916.
The business of greeting cards is extremely lucrative. According to the Greeting Card Association, nearly 6.5 billion greeting cards are purchased in America each year, with the retail sales of greeting cards estimated to be between $7 and $8 billion. The GCA cites that 145 million Valentine's Day cards are purchased each year, just behind Christmas cards, which are the most popular seasonal cards sold. According to CNN, there are 1,400 different varieties of Hallmark Valentine's Day cards in circulation. 
So, just how much does Hallmark make from selling sappy-sweet cards? According to the company, they can't say. "Hallmark is a privately held company so we don't release sales data," Kristi Ernsting, public relations spokeswoman for Hallmark told Mic. "But we do share an estimate for the number of Valentine's Day cards exchanged each year: 131 million."
Read more:
In January, the company announced a campaign titled #CareEnough, which "highlights the real love stories of real couples". The campaign features several video interviews of gay, interracial, and other diverse couples.  
"Valentine's Day prompts people to care enough to say what's truly in their hearts," Rob Reeder, Hallmark's marketing manager of greetings, said in a statement. "As demonstrated by this campaign, our Valentine's Day cards help people find the words to express themselves in a deeper, more meaningful way than with a text or post. A Hallmark card gets you started, and then you add your personal message to make it perfectly yours."
According to the National Retail Federation, Americans will spend an average of $146.84 on Valentine's Day this year, with total sales expected to reach $19.7 billion, TIME reports.