What Is the Grammys' Best New Artist Curse? These 3 Stars Dispel the Myth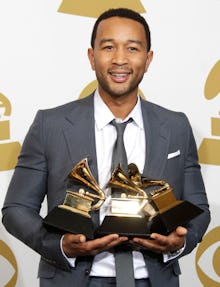 Jae C. Hong/AP
The "big four" categories at the Grammys are considered to be the most competitive, because nominees in each category are considered regardless of their genre. The announcement of each category — best new artist, record of the year, song of the year, album of the year — is usually featured prominently during the televised broadcast, and contributes to the "Grammy Effect." Billboard's Keith Caulfield reported that in the immediate weeks that followed the 2015 show, sales for the 26 songs performed, many of which were nominated that night, combined with each artist's top-selling album increased by 87%.
Read more:
Performing, being nominated and winning all influence post-Grammy album sales, but winning one of the big four is that much more influential. However, one of the big four categories has had a weird history with regard to the career trajectory of its winners leaving both music and Grammy fans asking, "Are the winners for the best new artist Grammy cursed?"
It depends on which decade you're assessing; Newsweek's Zach Schonfeld noted that the '90s were rather bizarre, with Hootie and the Blowfish winning over Alanis Morissette, Shania Twain and Brandy in 1996; and rap group Arrested Development winning over a pool of nominees that included Cuban singer-songwriter Jon Secada, Kriss Kross, Sophie B. Hawkins and Billy Ray Cyrus. Additionally, many of the winners — such as Paula Cole, who won at the 40th Grammy Awards in 1998 — were never able to repeat their initial success and simply faded into obscurity.
"By the early 2000s," Schonfeld continued, "the Grammys shifted its attention to more enduring career artists like R&B star Alicia Keys, jazz-pop sensation Norah Jones and singer John Legend, wisely passing over nominees like nu-metal band Papa Roach and 'Thong Song' star Sisqó."
Looking at the more recent winners, the case for there being a "kiss of death" significantly weakens.
John Legend, who won the Grammy for best new artist in 2006, returned with three wins in R&B categories in both 2009 and 2011. For the current awards, Legend is nominated for four, including best rap/sung collaboration with Kanye West and Big Sean for "One Man Can Change the World."
Carrie Underwood, who won the Grammy for best new artist in 2007, has become a perennial winner in the country categories, winning best female country vocal performance in 2008 and 2009; best country collaboration with vocals (shared with Randy Travis) in 2010; and best country solo performance in 2013 and 2015. Underwood's "Little Toy Guns" is nominated for best country solo performance for the current awards.
Perhaps the biggest proof is Adele, who won the Grammy for best new artist in 2009, and then returned three years later to nearly sweep the big four in the 54th Annual Grammy Awards, including album, song and record of the year. After winning an Oscar for "Skyfall" in 2013, Adele would follow her award-winning album 21 with the record-breaking 2015 album 25.
Though there are exceptions — such as Bon Iver's head-scratching win in 2012 at the 54th Annual Grammy Awards, even though his debut album was released in 2007 — it would seem the best new artist Grammy curse has been broken.
Correction: Feb. 11, 2016