Will Daft Punk Tour Again? Here's What We Know About the Electronic Duo's Latest Ventures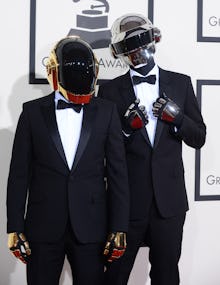 Jordan Strauss/AP
In the music industry 2013 was, unequivocally, the year of Daft Punk. After a painfully long hiatus, Thomas Bangalter and Guy-Manuel de Homem-Christo's latest album, Random Access Memories, took home several awards at the 2014 Grammy Awards — including album of the year — and reaffirmed their status at the top of the electronic music. 
However, in customary Daft Punk fashion, they've shied away from the spotlight, leaving nary a word of their immediate or long-term plans. Now, there are lingering questions as to whether they'll tour the highly popular album and if they have any new album plans for the immediate future. 
Read more:
Since Random Access Memories' release in 2013, there have been few live performances by the duo for any tracks on the album, let alone their wide-ranging music from years past. The one notable exception was at the awards show, when they performed "Get Lucky" alongside Pharrell Williams, Nile Rodgers and Stevie Wonder, which drew an animated response from the crowd. 
However, both have reiterated that there are no immediate plans to tour the album, despite its widespread critical acclaim. In fact, since the Alive tour in 2007 — for a live album —  they have had no major tours. 
"We're not sensitive to any kind of pressure," Bangalter said, in a 2013 interview with the Wall Street Journal. "Because the most valuable thing we have is our own freedom and creative dreams. There's less value for us in a big bag of money than in a creative idea we want to fulfill. The world we live in today is slightly off because money makes the world go. So we've had the freedom to always pick the thing that makes us the most happy."
Now entering 2016, not much has changed with the robotic duo, at the very least with on-the-record ideations. Furthermore, there have been no formal announcements regarding a new album being in the works. That said, the duo was part of Jay Z's launch of the music streaming service Tidal back in 2015. 
By joining the stable of artists on Tidal's initial launch, the expectation is that they could produce another album as an exclusive for the streaming service in the same vein as Rihanna's newest album, Anti, and Beyoncé's single, "Formation." The closest evidence, though, is through a Facebook comment by Chicago house producer Paul Johnson from April 2015, in which he said Daft Punk is "working on a new house album right now," according to the blog Harder Blogger Faster.
If true, Johnson implied it would take the French duo back to their roots with Homework, their 1997 house-centric début. That said, it is ultimately just a rumor. In the meantime, fans and critics alike can impatiently wait for any updates, while a documentary about Daft Punk will be available for people in the United Kingdom. Daft Punk Unchained, will premiere on BBC4 Feb. 19, according to NME, and will document key moments from their career. 
You can check out the trailer for Daft Punk Unchained below as a much-needed Daft Punk fix to hold us over until their next album release or potential tour updates: