Here's Why Donald Trump Is Still So Obsessed With Trashing Jeb Bush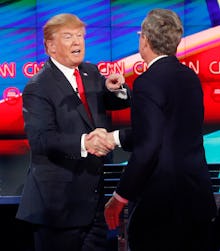 Jeb Bush turned 63 on Thursday, and Donald Trump apparently thought a Twitter rant would make a great birthday gift.
Trump popped off on his Republican primary foe as their campaigns — and the country —  focus on South Carolina ahead of Saturday's big debate in Greenville and the fast-approaching Feb. 20 primary.
As Trump gleefully pointed out, Bush came away with 11% of the GOP primary vote in New Hampshire Tuesday — about a third of what Trump garnered — and ended up outstripped by John Kasich and Ted Cruz.
Yes, Trump is truly hammering Bush in national matchups: A RealClearPolitics average of recent GOP polls shows the Manhattan real estate kingpin at 29.5% backing, followed by Cruz at 21%, Rubio at 17.8%, Ben Carson at 7.8% and Bush way down at 4.3% support.
Trump "wants to take him out in South Carolina. He wants to bury him."
As of the most recent RCP tally, however, Bush has about 10% support in South Carolina, compared to 36% for Trump, 19.7% for Cruz and 12.7% for Rubio — who on Thursday found himself targeted by a new attack ad from Cruz (which the campaign later pulled) and, the night before, by a particularly ornery Twix bar.
So why is Trump still so obsessed with needling Bush? There are some other things to consider when putting Trump's anti-Bush invective in context.
• Bush may be down in the polls, but Right to Rise, a super PAC working to help him win the nomination, started the year with nearly $59 million on hand. The political action committee's fundraising has stalled and has spent a considerable amount of money since filing its 2015 year-end report, but still, that's not chump change.
• Former President George W. Bush is hitting the trail for his brother in South Carolina, which he carried in the 2000 primary and where he enjoys continued popularity.
• South Carolina Gov. Nikki Haley has yet to back a candidate, but has openly trashed Trump's brand of rhetoric, including in her delivery of the Republican response to President Barack Obama's last State of the Union address.
It's not random. Trump is well-known for spewing venom at those he dislikes or who dislike him, but there are calculations behind his insults.
"I've got to believe that he senses that Bush is the guy in South Carolina who can make a move and establish himself as a candidate down the road and be dangerous," Doug Muzzio, a professor at the Baruch College School of Public Affairs, told Mic.
Since Bush has a chance to make a splash in the Palmetto State, Trump "wants to take him out in South Carolina. He wants to bury him," Muzzio said.
That's not to say there isn't a personal component. "I think he's unimpressed with Jeb in every way," Roger Stone, a former Trump campaign adviser who still supports him, told Mic. 
"In Trump's mind, Jeb stands for the status quo, for keeping everything exactly the way it is today," Stone said. "I also don't think Trump likes the sense of entitlement. Just because Michael became the godfather doesn't mean you [also] have to give it to Fredo."
Bullying behavior? Rick Wilson, a Florida-based GOP strategist who's working with the pro-Rubio Baby Got PAC (yes, it's actually called that), told Mic that Trump's behavior fits an age-old model.
"Bullies always pick on nerds who give off a vibe that they're not confident in their position, and bullies always attack people they think won't punch back," Wilson said. "There's obviously such a degree of animus about the Bush family — and that was going on before this campaign."
Trump spokeswoman Hope Hicks told Mic that basically, Bush started it.
"It is only in response to JEB's comments and negative ads aimed at Mr. Trump, which Mr. Trump discusses often," she wrote in an email.
Bush pushback: Team Bush, naturally, has its own opinions on the genesis of the Trump tirade — and the man himself.
"Jeb is the only one calling out Donald and so he throws a tantrum because he's an insecure person," Bush spokesman Tim Miller told Mic.
"Donald needs to be called out for the way he tears down women, the disabled [and] POWs to make himself seem strong," Miller said. "He needs to be called out for his uneducated and wrongheaded foreign policy views that would limit America's role in the world. And he needs to be called out for being a fake conservative."
"All of the other candidates, particularly Marco [Rubio], have been afraid to take on Trump to avoid the incoming," he told Mic. 
"Well, the presidency is too important, and Donald Trump would be a disaster for this country," Miller said. "So Jeb is not going to back down, no matter how many nasty tweets Trump sends in his pajamas."
As the campaign shifts its focus to South Carolina, expect Trump to continue to be a thorn in Bush's side. The pair are likely to reprise their beef Saturday night, when the remaining candidates meet in South Carolina for the final debate before the Palmetto State goes to the polls.