Looking to Propose at a Basketball or Baseball Game? Here's How and What It'll Cost You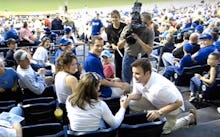 YouTube
Marriage proposals done at public outings like sporting events provide unique settings to exclaim your love for a partner in front of thousands of people. These proposals occur quite often at baseball and basketball games, with the stadiums' jumbo-sized screens streaming the adorably cheesy moments for fellow attendees. 
It's not just coincidence that videographers know exactly when and where to catch that special moment in the stands that begins the journey of marriage for two people. If you're interested in sealing the deal in what is arguably the most public location available, here are some steps to take in order to ensure it's the most magical experience possible.
Read more:
The whole point of having a public proposal is for it to be viewed by the masses, right? Luckily, most stadiums in major cities like New York offer ways for those hoping to pop the question to do so in front of as many people as possible.
Basketball fans can give a $100 donation to New York City's Madison Square Garden and its Garden of Dreams Foundation and a proposal message will appear on the jumbo screen located at the center of the court. For $150, your special moment will also be aired on the big screen and you'll receive a taping of it (assuming it all goes well). Throw in another $500 and the lucky couple (plus two friends) can have a pregame experience, including a meet and greet with former Knicks players, as well as the chance to shoot some hoops on the court before the game begins. It's a pretty hefty cost to tack on top of a ring and wedding, but shouldn't true love be priceless?
For baseball fans, Swimmingly reached out to each of Major League Baseball's 30 teams in 2014 to learn how much it would cost for a marriage proposal. While the Pittsburgh Pirates offer marriage proposals for as little as $39, the Los Angeles Dodgers charge up to $2,500 for anyone looking to take the plunge. Only five teams don't offer marriage proposal services throughout the MLB.
Miami Marlins fans can attend a game at Marlins Park and pay $500 for their special moment to be featured on the stadium's jumbotron, along with the actual marriage proposal message. The Marlins team mascot Billy the Marlin will also hand deliver a dozen roses to your beau, and a PA announcement will be made as well. Talk about getting the message out. 
Proposing in public can be pretty nerve-wracking for just about anyone — here are some tips. And no matter what happens, make sure you're sure you'll get a yes, or this will happen:
Feb. 11, 2016, 6:28 p.m. Eastern: This story has been updated.