Who Is Kanye West's Dad? Lyrics and Meaning Behind "Father Stretch My Hands"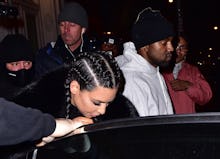 James Devaney/Getty Images
ICYMI: Kanye West is about to drop an album — and he's not about to let the world forget it. After cycling through three names for his seventh album, he seems to finally to have settled on The Life of Pablo, which is expected to make its debut Thursday at his Madison Square Garden showing of Yeezy Season 3. Because Kanye is a constantly humming hype machine, he's tweeted the lyrics to a new track off the album, "Father Stretch My Hands," in advance of the big drop.
He said the track was an ode to his dad. "Father Stretch My Hands...I cried writing this," Kanye wrote. "I love my Dad."
Read more:
Kanye's dad is Ray West, formerly a photographer for the Atlanta Journal-Constitution and reportedly also a paparazzo. Formerly a member of the Black Panther Party, he is now a Christian counselor, according to PopCrush. In 2013, Kanye told BBC Radio 1 that his father is primarily engaged in charitable work.
"Seven years ago, he lived in a homeless shelter, not because he was homeless, because he wanted to help the ex-drug addicts, he wanted to get that close. He started a foundation called Good Water and moved to the Dominican Republic, to help with the prostitution, to help with the extortion," West told host Zane Lowe. 
As he told the BBC, his mother, Donda West, "was the first black female chair" of the English department at Chicago State University. Donda West and Ray West divorced when Kanye was 3 years old, after which point he only saw his dad during the summer. Donda raised Kanye on her own — as Kanye has said, she was his "everything." She passed away in 2007, following a cosmetic surgery procedure. The rapper reportedly feels responsible for her death. 
"Father Stretch My Hands" suggests that Donda West and Ray West divorced over financial issues — that his father focused all his energies on his career, his beliefs, his aspirations. Which doesn't sound unlike Kanye. Is his goal to make good where his father wasn't able? Is that the motivation behind Kanye's empire building? Perhaps with the release of The Life of Pablo, all will be revealed.