Sam Hunt Albums, Music and More: What to Know About Best New Artist Grammy Nominee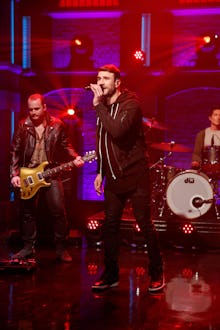 NBC/Getty Images
Breakaway country music star Sam Hunt is up for the best new artist award at the 58th Grammy Awards show, which CBS will air at 8 p.m. Eastern on Monday. The Cedartown, Georgia native and former University of Alabama quarterback left the football field to pursue a career in music back in 2008, and Hunt hasn't looked back since. Here's what we know about the songwriter that's got everyone listening to country music. 
This isn't the first time Hunt has been singled out for his musical ability. In 2015, Hunt won the new artist of the year award from the Academy of Country Music, and in 2014, Rolling Stone listed Hunt as an "Artist You Need to Know."
"Within the songwriting community there are these unwritten rules for the way that a song should be written in country music, and I think that those rules are constantly being broken over the years, and the molds change and the process is evolving," Hunt said, according to Rolling Stone. "So coming in not knowing those rules really helped me a lot to do what I felt was honest and right."
Read more:
To date, the 31-year-old has only released one studio album, 2014's Montevallo, and the LP is up for the best country album at this year's Grammy Awards show. To win that award, Hunt's debut studio album will have to beat out Little Big Town's Pain Killer, Ashley Monroe's The Blade, Kacey Musgraves' Pageant Material and Chris Stapleton's Traveller. For the prestigious best new artist award, the country singer will compete with Courtney Barnett, James Bay, Tori Kelly and Meghan Trainor. Here's a full list of this year's Grammy nominees. 
Perhaps part of Hunt's allure comes from his willingness to experiment within a genre that seems more formulaic to us than most. As Mic previously reported, Hunt's music video for "Take Your Time" broke away from the norm by tackling domestic violence. 
And his recent music video for "Break Up in a Small Town" reinforces the theory that Hunt's not afraid to be a pioneering force for the genre he represents. The video is a powerful spin on what we've come to understand as country music in the most traditional sense. Though the ballad is a classic country breakup anthem, it's infused with both pop and rock influences that work together with heavy percussion in the refrain. The result is graduated, genre-melding country music. 
While we wait to see if the deciders at the Grammys think Hunt's got what it takes to take home hardware during Monday's awards show, watch "Break Up in a Small Town" and listen to Montevallo.