Here's What We Know About the Benefits of the SoulCycle Workout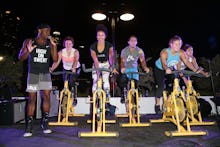 Joe Scarnici/Getty Images
In January nationwide retailer of just about everything Target announced a partnership with boutique cycling-studio chain SoulCycle, Fortune reported. As part of the partnership, Target will be hosting free SoulCycle classes in 10 cities, as well as selling a capsule collection of apparel. The move is another testament to SoulCycle's success (other than its celebrity ambassadors such as Kelly Ripa). 
SoulCycle's first studio opened in 2006, and its fast-selling classes have been insidious to the fitness world ever since. With its spiritually motivational mantras, pumping dance music and candlelit studios, the sworn-by fitness chain is often compared to a cult. Aside from its claim to burn up to 700 calories in just 45 minutes, SoulCycle is an addictive catharsis on high-speed for its loyal riders, New York magazine reported. 
Read more:
This sense of community is expected, since in every class, instructors offer positive reinforcement through empowering mantras usually heard in yoga classes. "Get rid of that anxiety about how you're going to perform today," an instructor shouted, according to New York. "There's a whole lot of testing, but no failures at all." Many others feel that their SoulCycle class is a "way of life" and their "happy place." Sometimes its just the empowering energy of the classes that gets those who usually dislike working out returning almost religiously.
"We wanted an experience that was more than just a physical exercise," co-founder Elizabeth Cutler wrote to the Atlantic.
As far as fitness goes, the riders use light free weights and perform upper body exercises on the bikes, Bloomberg reported. "Get ready for fat-burning cardio, a full-body workout (we've added hand weights and core work!) and choreography to work your core," according to the SoulCycle website. 
Intense indoor cycling is an anaerobic exercise, and it improves the cardiovascular system as well as helps with weight loss, the Washington Post reported.
But the routine has been criticized as being inefficient in properly activating the fast-twitch fibers (which improve muscle mass and strength) and as potentially unsafe, according to the Los Angeles Times. 
Since SoulCycle becomes a part of people's lifestyles, it can allegedly have healthy residual effects. SoulCycle reports its riders to have cut out juices and sodas by 46%, according to Today.