Shakira Asked Disney to Give Her Animated Character Curves to Better Reflect Her Own Body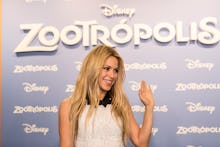 Shakira's hips don't lie, and neither do her avatars. 
The international pop star plays Gazelle in the new Disney film Zootopia. But when Shakira first saw a sketch for her character, she had one objection: Gazelle was missing one crucial feature: her signature hips. 
In an interview with Spanish-language newspaper El Pais, Shakira said that she and her animated alter ego have a lot in common, but that they had to be a little bit more in line underneath their clothes.  
"A lot of the details are mine: the eye color, the eyelashes, the hair," she said. "Including the clothes. That skirt is very 'me.' I felt she needed more hips ... and I asked them for more and they did it!" 
So, Disney, don't bother trying to hire Shakira without showing her hips. That's just loca. 
Shakira shared a few snaps of Gazelle on her Instagram a few weeks ago, and the character definitely shares some of her fashion sensibility. 
Shakira previously spoke to Glamour about the pressure to stay thin while being a pop star, a mother and a wife. However, her comments caused a little controversy when she said that she finally decided to accept her body type because her husband, soccer player Gerard Piqué, "prefers meat over bone." 
Zootopia opens March 4 — see it whenever, wherever you can.