Frank Ocean Came Out of Hiding for Yeezy Season 3 and the Internet Went Nuts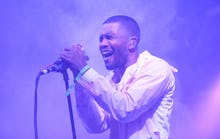 Jason Merritt/Getty Images
After breaking the hearts of loyal fans worldwide in July, Frank Ocean stopped releasing music, ended his blog posts and disappeared from all social media accounts. That is, until now. The 28-year-old singer-songwriter made an appearance at Kanye West's Yeezy Season 3 event at Madison Square Garden Thursday, where West unveiled his newest album, titled The Life of Pablo, and the third edition of his clothing line.
Read more:
The singer is featured of West's new song "Wolves," one of the tracks from the new album.
Ocean is a sight for sore eyes; fans are still disappointed after his unfulfilled promise to release the album Boys Don't Cry, which would be the artist's second studio album. In 2012, Ocean premiered his debut studio album, Channel Orange, with the lead single "Thinkin Bout You." Channel Orange debuted at No. 2 on the Billboard 200 chart, selling 131,000 copies in its first week.
One of the last songs from the R&B artist before his disappearance was "Hero," with Diplo, Mick Jones and Paul Simonon of The Clash. 
Fans of the R&B star took to Twitter to express their delight, or mild annoyance, at Ocean's sighting. 
It's still unclear when Ocean will be releasing his new album, but his feature on The Life of Pablo should be able to hold fans over — at least for a little bit.