Silicon Valley Titans Are Clashing Over Facebook's "Free" Internet — Here's Why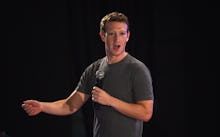 Facebook just lost a major battle to win the hearts of the Indian people, and its damage control could use some work.
It started with Free Basics, Facebook's program that would grant free web access to developing nations, with one catch: Facebook can control what content is accessible. 
Activists, investors and privacy advocates in India said that the entire program was imperialistic, comparing it to the East India Trading Company and saying that no Western corporation should control what information the people of India should have access to. 
So when Free Basics was struck down on Monday, Indians rejoiced.
But in Silicon Valley, it was a round defeat for techno-utopians who think they know what's best for people of developing nations worldwide. Marc Andreessen, a tech luminary and king-making Silicon Valley investor with a Kanye West-like reputation for spouting off about subjects he's unqualified to speak on, took his grievances to Twitter, saying that the people of India were "morally wrong" to reject Zuckerberg's "help."
The Facebook board member then came out again with this now-deleted tweet, implying that India has been hurting itself by refusing to bow to recent attempts at colonialism:
People of all nations, colors and creeds immediately railed against Andreessen, who hadn't just expressed agreement with the popular notion that Facebook's offering of a free internet was akin to imperialism, but that Indians were foolish for not happily accepting their Western colonization.
One Pakistani-American tweeted a short history lesson at Andreessen, saying his argument was "akin to positing that African-Americans should be thankful for slavery."
"I found the comments deeply upsetting, and they do not represent the way Facebook or I think at all."
Zuck stepped in: But perhaps the biggest rebuke came from Facebook CEO Mark Zuckerberg himself, who came back at Andreessen, disavowing his comments entirely.
"I found the comments deeply upsetting, and they do not represent the way Facebook or I think at all," Zuckerberg wrote on his personal Facebook page.
Andreessen, father of bloated tweetstorms, apologized publicly, and has been uncharacteristically quiet since.
Given Andreessen's notorious free-market, antigovernment libertarianism, this apology didn't ring true for a lot of his detractors.
But if there's any resolution we can all be pleased about, it should be this, even if it should have come much sooner:
See Zuckerberg's full response to Andreessen below: