Who Is James Bay? What You Need to Know About the Grammy Nominee for Best New Artist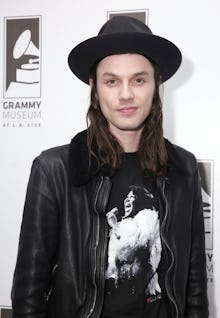 Rebecca Sapp/Getty Images
On Monday, James Bay will be up for three awards at the 58th Grammy Awards but the 25-year-old British singer-songwriter wasn't even expecting to be nominated for any; he told Forbes' Hugh McIntyre about his elation and appreciation for the honor, even though his motive as an artist isn't to "chase" awards. He then eventually admits that he'd be lying if he "didn't think it would be really nice to receive some of that stuff" — the appropriate sentiment for the stalwart crooner.
Read more
Bay released two EPs — 2013's The Dark of the Morning and 2014's Let It Go — before he joined Hozier for a two-month North American tour. At its conclusion in November 2014, he released his third EP, Hold Back The River.
Chaos and the Calm, Bay's full-length debut album was released in March, a month after he received the BRIT Awards' accolade for critics' choice winner. Taylor Swift also invited him to open for her during the European leg of her 1989 tour.
It's not difficult to see why Bay resonated with Swift; much like her buddy and past collaborator, Ed Sheeran, Bay injects his guitar-driven rock and folk with hints of soul.
"Let It Go," the album's first single was praised by Clash for how it exhibited the "subtleties of his pain." However, it was his second single, "Hold Back the River" that became his breakout hit. The Guardian's Mark Beaumont, while not a fan of the LP in its entirety, praised the song's "infectious singalong sunniness."
Though he lost his MTV Video Music Award nomination for artist to watch to Fetty Wap, Bay has another opportunity to win a similar, arguably more prestigious award; nine experts in a GoldDerby roundup believe the Grammy for best new artist is Bay's to lose, with Sam Hunt being his closest competition. Bay's "Hold Back the River" is also nominated for best rock song, and his debut LP will also be vying for best rock album. Listen to both below via Spotify.