Here's How to Be Cool, According to Leaked Directions Kanye Reportedly Gave Yeezy Models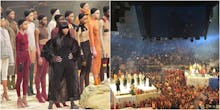 The first rule of acting cool: Do not act cool. 
That's according to Kanye West, who reportedly issued a printed list of dos and don'ts to the about 1,200 models who were cast to stand around wearing his creations at his concert-meets-fashion show extravaganza at Madison Square Garden on Thursday, the first day of New York Fashion Week.
A photo shared by Paper magazine, which was on the scene via Periscope and Twitter, showed a paper list of "Performance Rules":
The list started circulating quickly on Twitter, with a couple notable items popping out. Among the highlights are "No whisper," "No eye contact," "Alternate between attention and ease" and, seemingly everyone's favorite, "Do not act cool." 
Paper, shortly after tweeting out the list, started its own hashtag, #DoNotActCool. 
And although West told the packed crowd to "not be afraid to dance" while they listened to the set (which he didn't perform so much as listen to on speakers), one of the rules for this poor crew of models was "No dancing." Also, "No fast movements" and "No sexy posing" and a few others that sound more like inspirational quotations — "Be calm, be strong, be [natural]" and "You are a picture."
Not important, it seems, is the clothes they're wearing, which are for the record pretty cool. There are plenty of neutral colors, as per usual, plus a few models wearing his new clear-heeled shoes and rocking some reds, yellows and dark greens as well (colors!)
In short, being cool and looking good according to Kanye West involves some very strict rules, many of which contradict one another and make zero logical sense. But hey, that's cool, right?
For what it's worth, the models appear to be following directions quite well. Check it out on Tidal: