Kanye West's Yeezy Season 3 Models Held Up Black Power Fists as the Album Came to a Close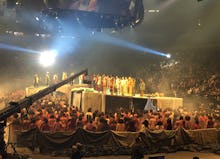 Thursday, Kanye West debuted his long-teased The Life of Pablo at what was likely the biggest hip-hop listening party the world has ever been invited to. While a mass of models showed off his new Yeezy Season 3 fashion line, West and his crew danced along to the album. 
For most of the performance, the models stood as still as mannequins, as they were told to do in the model's rules that leaked earlier today — until one powerful moment. Right as the album was nearing its last song, "Wolves" (which contained a Frank Ocean feature), a group of black models in the front raised their fists.
It's a gesture audiences have seen before — fairly recently, no less. It's a gesture known best for its use by the Black Panther Party in the '60s and '70s. 
Commonly known as the black power fist or the raised fist, the gesture caught Twitter's eye immediately. They picked up on it and its importance in the fight against racial injustice.
West's father, Ray West, was a Black Panther himself. He's honored on West's "Father Stretch My Hands," which the rapper tweeted the lyrics to earlier today.
This event is now the second major nod to the black nationalist party made by an entertainer this week. During the Super Bowl halftime show Sunday, Beyoncé sang her black power anthem "Formation" backed by dancers dressed in black berets, a signature outfit of the BPP. Her dancers also raised black power fists in the same fashion as West's models did.
Both events have had huge reach: 115.5 million tuned into the Super Bowl halftime show. West wasn't far behind, relative to scale: 20 million streamed his album premiere. Beyoncé came under fire for her staging, drawing criticism from politicians, pundits and comedians. It's likely West will get the same — if not for the controversial black power nod, then for perhaps his bold, even brash Taylor Swift lyric.