Kanye West Debuted a Video Game About His Mom Going to Heaven at Yeezy Season 3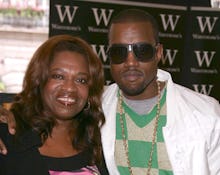 Ferdaus Shamim/Getty Images
Rapper Kanye West had a big day on Thursday: He launched a new album, a new clothing line and it seems, a new video game during an event at Madison Square Garden. Spectators in the audience tweeted out clips of the game, reportedly called Only One: The Game, which seemed to show a character — inspired by West's late mother, Donda West — flying around heaven with a giant pair of wings.
Read more:
Rumors of a Kanye video game surfaced back in 2015. "It's my mother going through the gates of heaven," West said during an interview with the Power 105.1's radio show The Breakfast Club. "We've been working on it for like six months."
The game appears to be here. Or at least, the teaser trailer for the game is here, if videos from West's release event are any indication.
With the release of so many new projects all at once, we won't be surprised if Feb. 11 is forever known as "Kanye Day" after this week.