"Famous" Lyrics: Meaning Behind Kanye West And Rihanna's New Collaboration on 'TLOP'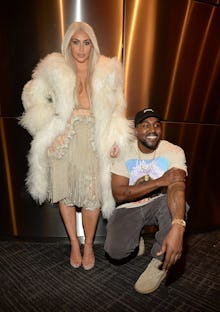 Kevin Mazur/Getty Images
Kanye West knows how to put on a show. On Thursday, the 38-year-old rapper debuted his newest album, The Life of Pablo, the third edition of his clothing line and a new video game at his Yeezy Season 3 event at Madison Square Garden in New York. But the song that really got the crowd going was "Famous," his collaborative effort with Anti singer Rihanna. Hip-hop artist Swizz Beatz also hopped on the track.
The song focuses on the fame and wealth West has accumulated during his career. The braggadocio makes mention to the women with whom he had sex in the past, how he is the reason Taylor Swift is in the spotlight and how his legacy will never die. "Famous" features samples from Sister Nancy's "Bam Bam" and Nina Simone's "Do What You Gotta Do" at the end.
Read more:
"Famous" opens up with Rihanna singing, "Man I can understand how it might be/ Kinda hard to love a girl like me/ I don't blame you much for wanting to be free/ I just wanted you to know." 
 Yeezy then went into the song with a mention Swift, who he infamously stole the spotlight from at the 2009 MTV Video Music Awards. "I feel like me and Taylor might still have sex/ I made that bitch famous." 
The rapper commented on the incident at December's Footwear News achievement awards, according to People, saying, "After the infamous Taylor Swift moment, I sort of did a little self-exile, just to get away from paparazzi and to have people not, you know, just fucking with me constantly."
The Chicago rapper also made sure that all of his past flings knew that he isn't sweating them at all. "For all the girls that got dick from Kanye West/ If you see 'em in the streets give 'em Kanye's bests/ Why? They mad they ain't famous/ God damn/ They mad they're still nameless (Talk that talk man)/ Her man in the store tryna try his best/ But he just can't seem to get Kanye fresh." 
For West's last verse, he tells listeners that he doesn't have to worry about small things like debt or death. His legacy as an artist has been established. "Young and we alive, whoo!/ We never gonna die, whoo!/ I just copped a jet to fly over personal debt/ Put one up in the sky." 
According to US Weekly, Yeezy promised Adidas will work towards producing Air Yeezy's at lower prices at the Yeezy Season 3 event. "I just want to bring as much beauty to the world as possible. I'm only 38 years old," West said.