Kanye West 'The Life of Pablo' 2016: Track List, Early Reviews and Photos From Yeezy Event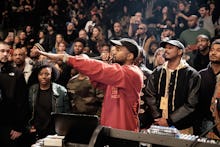 Dimitrios Kambouris/Getty Images
American rapper Kanye West is no stranger to theatrics, given his recent public tussles with his peers and the level of hype that has surrounded his latest release. Perhaps to rise to or mimic the degree of exposure he's enjoyed in recent months, the artist staged a fashion show/album launch at New York City's Madison Square Garden on Thursday. The Life of Pablo is West's eighth studio album, and one the recording artist has humbly hailed as "one of the greatest albums." As of press time, the album had not yet been made available on iTunes. 
Read more:
Yet after Thursday's event, not all critics were convinced Kanye has delivered on his promise of grandeur with The Life of Pablo, a title which has sparked lingering confusion in the minds of fans. And some reviewers reacting after their first listen chalked that up to what could be described as an overblown ego.
"Kanye West has fallen foul of a common artistic hubris, where he has become convinced that what he is doing is so inherently interesting, he can do anything and we'll still be interested," writes the Telegraph's music critic, Neil McCormick. "Not the greatest album ever made, that's for sure."
"The main conundrum facing Kanye ahead of this LP was where he could go from here," writes NME'S Luke Morgan Britton. "My Beautiful Dark Twisted Fantasy, in West's own words, 'showed people that I understand how to make perfect.'" Britton concludes, "So how does The Life Of Pablo stand up next to the rest of West's back-catalogue? Sadly, on first listen at least, it's probably more towards the mid-tier."
Critiques aside, it's rare that an album can win mass audiences on first listen alone. Have a listen (or several) once it officially surfaces and decide for yourself if Yeezy has created a masterpiece or a miss. 
The track list, according to Kanye:
Here's a handful of photos from Thursday's event: