Kanye West Just Responded to Backlash Over His "Misogynistic" Taylor Swift Lyric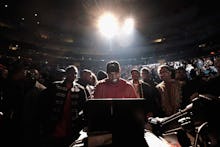 Kanye West debuted his long-awaited seventh studio album Thursday, currently titled The Life of Pablo, by playing it off his laptop during his Yeezy Season 3 collection debut at Madison Square Garden. Approximately 20 million people tuned into the event via a somewhat unreliable stream hosted by Tidal. 
One lyric, however, cut through the stream's choppiness: a line off "Famous" in which West claims he and Taylor Swift are bound to have sex, because he made her famous.
"I feel like me and Taylor might still have sex/ Why? I made that bitch famous," West raps, as transcribed by Consequence of Sound. Later in the song, he adds: "For all the girls that got dick from Kanye West/ If you see 'em in the streets give 'em Kanye's bests/ Why? They mad they ain't famous/ God damn/ They mad they're still nameless."
The lyric immediately made waves, and TMZ was one of the first publications to attempt to solicit a reaction out of Swift's people. According to "sources directly connected" with Swift, West had informed her of the line, telling her it was a joke, and she approved it. In a series of tweets posted Friday morning, West supported that narrative, describing a phone call in which Swift approved the lyric — and claimed the very idea he made her famous was hers in the first place.
An Instagram post from New York Times writer Jon Caramanica posted early Friday morning (before West started tweeting) suggests that story wasn't accurate. He shared an email from an official Swift spokesperson that contradicts both TMZ's report and West's tweets.
"Kanye did not call for approval, but to ask Taylor to release his single 'Famous' on her Twitter account," the email reads. "She declined and cautioned him about releasing a song with such a strong misogynistic message. Taylor was never made aware of the actual lyric, 'I made that bitch famous.'"
This potentially fame-making moment in question can be traced back to the 2009 MTV Video Music Awards, when West snatched Swift's microphone away during her best female video acceptance speech to declare that Beyoncé, in his mind the rightful winner, "had one of the best videos of all time." 
The two appeared to have made up during the 2015 VMAs when Swift presented West with his Video Vanguard award. But it seems West is still not done milking the moment.
Pop culture critics have traced both artists' currently massive levels of fame back to this incident. West became hip-hop's No. 1 villain, and Swift a more convincing embodiment of pop's innocent, humble girl next door. However, stripping away Swift's agency in creating her own fame is to overlook so many of her talents: her songwriting skills, business savvy and ability to establish meaningful relationships with fans.
Swift's brother, Austin, is not letting West's insult stand. On Instagram, he shared a video of himself throwing his pair of Yeezys in the trash, while whistling a happy tune.