Cleveland Mayor Apologizes After City Sends Tamir Rice's Family a $500 Ambulance Bill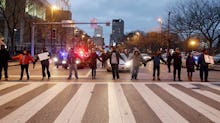 The mayor of Cleveland has apologized to the family of Tamir Rice after the city filed paperwork to sue them over the dead boy's $500 ambulance bill, according to ABC News.
"We want to start off again apologizing to the Rice family if in fact this has added to any grief or pain they may have," Mayor Frank Jackson said at a press conference Thursday. "It was a mistake in terms of us flagging it, but not a mistake in terms of the legal process."
Jackson added filing the claim was a "routine" matter, but that it should have never happened. The bill came to light Wednesday when an executor for Rice's estate inquired with the city about outstanding payments. The paperwork was then sent to Rice's estate. It said the family had until March 11 to resolve the bill.
A lawyer for the Rice family, Earl S. Ward, called the move "cold and callous" in an interview with the New York Times.
Rice was killed by a Cleveland police officer on Nov. 22, 2014 while playing with a toy gun outside the local Cudell Recreation Center. Officer Timothy Loehmann opened fire on the 12-year-old within seconds of pulling up next to him in a patrol car, then did not attempt to revive him or provide medical assistance.
The ambulance bill serves as a gruesome reminder of what happened next — a fateful ride to the hospital where the boy eventually died, broken down into its corresponding dollar amounts: $10 for each of the five miles it took to get there, and $450 for the "advanced life support" that kept him alive until then, the Times reported.
In December 2015, a grand jury declined to indict Loehmann or his partner, Frank Garmback, on criminal charges in Rice's death.
The bill — the file for which was reportedly closed in February 2015 after Medicaid paid $179 and the city wrote off the balance — is just the latest in a string of indignities faced by Rice's family since his death. Jackson previously apologized to them in March after the city filed legal documents saying the 12-year-old was responsible for his own demise, saying the November shooting was "directly and proximately caused by the failure of [Tamir] to exercise due care to avoid injury."
Rice's death also came just days before the city of Ferguson, Missouri, erupted in riots after a grand jury declined to indict Officer Darren Wilson in the August 2014 shooting death of Michael Brown. Along with that of Eric Garner, Freddie Gray and others, Rice's death fueled protests across the country in response to police violence against black people.
At least two other black men have been killed under controversial circumstances in Ohio over that period — John Crawford III, who was killed by police in August 2014 while holding a toy rifle in a Walmart store outside Dayton, and Sam Dubose, who was killed during a traffic stop in July 2015 at the University of Cincinnati.
A grand jury declined to indict anyone in Crawford's death. Ray Tensing, the ex-officer who killed Dubose, has been charged with murder.
h/t ABC News