Maybelline's New Model Is Taking A Stand For Diversity In Fashion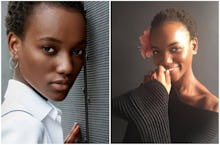 For the past five years or so, Tanzanian model Herieth Paul has been flying under the radar. Sure, she's walked for designers like Tom Ford and Rick Owens, but, for the most part, she hasn't yet become a household name. But that's about to change. 
On Thursday, Paul announced that she is one of the new faces of Maybelline Cosmetics.
"This has been the hardest-kept secret of my entire life and the highlight of my career," Paul wrote on the Instagram post announcing the news. 
One of the many reasons people are especially excited about Paul's addition to Maybelline's roster is that she's joining Jourdan Dunn as one of the few models of color signed with the beauty company. Although there have historically been relatively few women of color in the beauty and fashion world, the number of models like Paul has been on a steady incline for the past few years or so. 
"When I first started modeling in 2011, there were very few darker-skinned girls," Paul told Glamour. "Now I see girls from all over the world. You see Asian girls, Indian girls — you see every kind of girl.  I feel like it's getting better — we're not there yet — but I see a change."
And in fact, one of the major changes Paul's actually bringing to Maybelline (and the beauty industry landscape in general) is that she's one of the first models in a very, very long time who's sporting natural hair. 
According to the Cut, the last model of color with natural hair that Maybelline signed was Tomiko Fraser Hines, way back in 2001. So Paul's hiring couldn't have come at a better time, especially given the attention the natural look has gotten over the past year.
Model Maria Borges rocked natural hair and walked the Victoria's Secret Fashion Show catwalk in November. In October, actress Taraji P. Henson sported the look for a photo shoot for the high-end fashion mag CR Fashion Book. And actress Viola Davis continued to don natural hair on red carpets and on the covers of major magazines like Elle. 
All that visibility matters — not only for the fashion and beauty industries, but for the women around the world being exposed to this idea that relaxed or straighten hair is more beautiful or professional. 
As Henson put it in an Instagram caption before her photo shoot: "As women we put sooooo much emphasis on our hair!!! As if hair defines beauty? I am always so grateful for women who are FREE AND BOLD enough to cut it ALL off." 
Now Paul, whose beauty ads are reportedly going to start rolling out in the spring, joins the list of women who are. 
h/t The Cut