Weekend Weather Forecast: Northeast Temperatures to Plummet to as Low as 30 Below Normal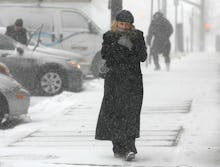 Stew Milne/AP
Oh, you thought we were having a "mild" winter? Well think again because Mother Nature is about to hit you with an icy-cold reality check. According to the National Weather Service, the "coldest air mass of the season" is set to hit the eastern U.S., and "afternoon high temperatures as much as 20 to 30 degrees below normal are likely."
That means from Washington, D.C., up through the Canadian border, the Northeast will feel the frigid revenge of Mother Nature.
    Read more:
AccuWeather reported that, over the weekend, temperatures will plummet to "10 to 20 degrees below normal" in the affected areas. On top of the colder temperatures, the "wind and other factors" might make it feel as cold as minus 10 degrees Fahrenheit in Washington D.C. and minus 20 degrees in New York City, according to AccuWeather's RealFeel temperatures. Parts of upstate New York and parts of New England may feel as cold as minus 40 to minus 50 degrees.
As always, stay smart during the cold weather and bundle up whenever you venture outside. Frostbite can set in 30 minutes or less in such cold weather. But don't get too sad about winter's resurgence, according to AccuWeather, "as quickly as the arctic air arrives this weekend, it will leave next week."