Soon You'll be Able to Buy Headphones to Get You High — Just Don't Drive With Them On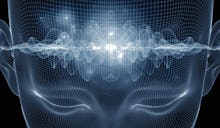 Do you want to get high? Do you live in a state that hasn't come around on recreational weed? Do you hate breaking the law? 
If the answer to all those questions is "yes," then your wait may be over — thanks to the good people at Nervana.
The Florida-based startup claims they've invented a pair of headphones that can bring users a high comparable to a hard workout — if not exactly comparable to weed. 
Here's how Nervana explains it: The headphones will pump music into your ears like any other but will also use an electrical signal to stimulate the Vagus nerve from inside the ear canal. This will result in — allegedly — the release of all those fun brain compounds like dopamine and serotonin.
The headphones were first unveiled to the general public at last month's Consumer Electronics Show in Las Vegas. 
"We wanted to come up with something that accessed the Vagus nerves which makes you feel good," Nervana co-founder and CEO Ami Brannon told Mic. "You have these pleasure centers in the brain and when those are stimulated, they release neurotransmitters."
While it's natural for a company founder to be enthused about her invention, critics at the CES also said the experience was something special. 
"I felt the electricity go into my arm, and everything was tingling there, but the best moment for me was afterwards when I finished and stood up," one user reported to Futurism. "I felt like I reached a personal high point. I couldn't stop smiling or laughing. I was like, 'Oh wow'. For about five minutes, my happiness level was a 10 out of 10. Then it got foggier, but I was still unusually happy for about an hour."
The device is currently in the final stages of durability testing and if all goes well Nervana says they expect to go on sale to the general public next month. 
Read More: Serenade Your Baby From Within the Womb via This Musical Tampon
Still, as it stands now, the product does come with a few significant drawbacks. The electrical signal central to the whole process requires that the headphone must also come with a clunky generator. To actually get the music into your ears requires the headphones and generator and music device all working in tandem. The whole package will be on sale for $299, putting them on the higher end of the headphone market. And the brain effects, while pleasurable, may work a little too well.   
"[We're] not going to recommend driving, certainly not while using it," Brannon said, adding that while she was confident there was no impairment, the company suggested that driver's stay off the road for at least 30 minutes after use. 
Nevertheless, for those who have the cash to burn, the device could be the start of a reinvention of how we listen to music — and how we get high.