A Soft-Core Porn Actress Was Slut-Shamed By the Cruz Campaign After Appearing In an Ad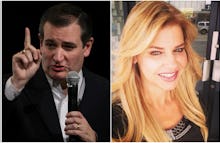 Earlier this week, the campaign for Sen. Ted Cruz (R-Texas) pulled an attack ad that criticized fellow GOP presidential candidate Marco Rubio (R-Florida). The reason for pulling the ad? Cruz's campaign had learned that Amy Lindsay, one of the actors featured in the spot, had previously starred in a number of softcore porn films. 
As Buzzfeed first reported, Lindsay is an actor whose complete filmography includes softcore films such as Erotic Confessions, Carnal Wishes and Insatiable Desires. After Buzzfeed asked the Cruz campaign to comment on the actress's resume, Cruz's staff said it planned to pull the ad and replace it with another one. 
"The actress responded to an open casting call. She passed her audition and got the job. Unfortunately, she was not vetted by the production company," Cruz spokesman Rick Tyler told Buzzfeed. "Had the campaign known of her full filmography, we obviously would not have let her appear in the ad." 
For her part, Lindsay, a self-identified conservative Christian, appears to be deeply troubled by the Cruz campaign's decision to pull the ad. The actor commented on the implications of the campaign's decision on Twitter, saying she was "extremely disappointed" the ad was removed.
Initially, Lindsay said she believed the casting director was aware of her full work history, and that her inclusion in the ad indicated Cruz might be trying to reach a different type of supporter — "not just some old, white Christian bigot, but also, perhaps, "a cool kind of open-minded woman like me," she told BuzzFeed. 
Yet the Cruz campaign's decision to distance itself from Lindsay simply because she had a few softcore credits on her resume speaks volumes not only about the Cruz campaign itself, but about society's general stigmatization of sex workers, both past and present, in general. (The fact that Buzzfeed specifically reached out to the Cruz campaign to ask for comment about the casting of a former softcore porn actor also speaks volumes about the media's willingness to throw such women under the bus for the sake of a story.)
By yanking the ad, the Cruz campaign is essentially saying that because Lindsay did porn, the rest of her work experience — on television, as a voice actress — doesn't matter, simply because she appeared nude on camera a few times. 
The problem isn't simply that slut-shaming views like Cruz's tend to inform public policies that leave Americans grossly under-informed about sex and poorly equipped to take control of their reproductive health. They also reflect the inescapable stigma faced by anyone who has ever done sex work in any form, and the way society relegates sex workers even when they aren't sex workers anymore. If you've ever engaged in prostitution, you can be fired from your teaching job later; if you've worked as an escort, you can lose titles you've earned as an athlete. Hell, if you want to be on American Idol but once posed topless for a porn site, well, that's too damn bad. 
Lindsay isn't the only former adult actor to be denied other work opportunities outside porn, just as Cruz's campaign isn't the only organization to distance itself from professionals simply because they've been involved in the adult world. But doing so shuts out the voices of people like Lindsay — of women, in particular — who aren't ashamed of their sexuality, and teaches us not to listen to anyone who doesn't see sex as immoral.