Facebook Is Handing Out $1,000 Credits If You Want to Run Advertisements Against ISIS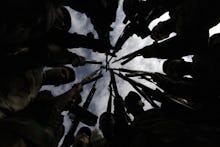 Washington, D.C. is pleading with Silicon Valley to figure out some way to fight ISIS online. So companies like Facebook and Google are bringing out the biggest guns the modern tech sector has: megalithic, all-seeing advertising platforms.
Facebook is giving away $1,000 credits to groups that want to run advertisements showing anti-ISIS propaganda, the Wall Street Journal reports.
Social media is an essential element of jihadist recruitment in the West, and Facebook has spent months developing its anti-ISIS strategy. In one case, it let some jihadis make accounts and then struck up long-lasting conversations with them. Last fall, Facebook held competitions with 45 colleges, awarding thousands of ad dollars to student teams running anti-jihadist messages.
Hearts and likes campaign: Facebook's new anti-ISIS effort comes after similar declarations from other major internet companies. Twitter recently broke its silence on the issue of ISIS accounts to announce that it has banned tens of thousands of ISIS handles, and Google announced a nearly identical program earlier this month, giving free ad placement to people who run anti-ISIS propaganda campaigns — possibly Facebook's inspiration for publicizing its own program.
"This year ... we are running two pilot programs," Google executive Anthony House told a committee of the U.K. Parliament. "One is to make sure these types of views are more discoverable. The other is to make sure when people put potentially damaging search terms into our search engine, they also find these counter-narratives."
"Right now it's an assumption [based on thinking that] better ideas ultimately defeat worse ideas."
But even if government entities and NGO's reach as far as Hollywood to find someone to produce effective, enlightening messages that encourage people to turn people away from terror, counterterrorism experts aren't sure that uplifting anti-propaganda actually works.
"Right now it's an assumption [based on thinking that] better ideas ultimately defeat worse ideas," William Braniff, executive director of the National Consortium for the Study of Terrorism and Responses to Terrorism, told the Journal.
Still, some people are convinced that likes, shares and maybe even a few pokes can help stop ISIS's influence in the West, even if those people are mostly Facebook employees.