Taylor Swift Fans Are Coming to Her Defense After Kanye West's "Famous" Track Diss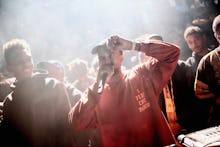 Dimitrios Kambouris/Getty Images
On Thursday night at Madison Square Garden in New York, Kanye West debuted his Yeezy Season 3 collection and eighth studio album The Life of Pablo. At the same time — to the dismay of her many fans — West also managed to unearth some old beef with Taylor Swift with his song "Famous," and her fans aren't having it. 
In the song, West raps, "I feel like me and Taylor might still have sex/ Why? I made that bitch famous," according to lyrics from Genius. The line alludes to the 2009 MTV Video Music Awards, when West walked onstage to defend Beyoncé when Swift was declared winner of the best female video award.
Read more:
West started his Friday morning with a Twitter rant, defending himself by saying he never dissed Swift, and that he's an artist and "as an artist I will express how I feel with no censorship." He also claimed he had an hourlong conversation with Swift about the lyric and got her blessings. But a representative for Swift said that West did not ask Swift for approval of the song, and that she warned him of releasing such a misogynistic song, Pitchfork reported. 
Swift's fans immediately flocked to her side, tweeting the many ways they feel Swift earned her fame, and calling West's ego "insane."
Swift's brother Austin Swift posted an Instagram video of himself throwing out his $950 Yeezy 350 Boosts, People reported. "Getting a head start on some spring cleaning," the caption read. "Here we go again." As of Friday morning, his post had garnered over 58,000 likes.
Swift's equally famous girl squad also voiced their negative feelings toward West's lyrics. Actress Jaime King wrote on Twitter that she is "disappointed" and will stand by her "sister." Model Gigi Hadid, who was in attendance at the Yeezy event, told fans on Twitter that her friends know where her true loyalty lies. 
Mess with Swift, mess with all the Swifties. 
Get the five stories that will challenge you to rethink the world by signing up for MicCheck Daily.