Gay Teacher Fired From Job After His Sex Tape Was Posted Online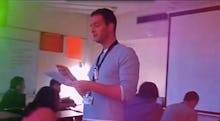 In October 29-year-old Brian Cody Bray was fired from his job at Maumelle Charter High School in Arkansas, where he taught physics and math, but not for a lacking performance in the classroom. In September, someone had hacked Bray's email and Dropbox accounts and posted what Bray described on his personal website as "a video recording of an intimate encounter between myself and another informed, consenting adult male" to the school's website. 
Washington Blade reported the hacker changed the name of the Dropbox file from "private" to "FagTeachBray" and then began corresponding with one of Bray's students via text message, calling the teacher a "fag" and encouraging the student to watch the video. 
Bray said though he had never explicitly discussed his sexual orientation with his students, it was commonly known that he is gay, the Blade reported.
Read More: Virginia High School Parents Not Happy After Kids Shown White Privilege Cartoon
Immediately after the incident, Bray told the school that he understood the decision to terminate his employment, as administrators argued that he had "lost any kind of authority with [his] students there." 
But after some thought, Bray acknowledged that he was targeted by the hacker for his sexuality, making him the victim of a cyber hate crime — and then an even bigger threat: School officials filed a complaint to an ethics board that could potentially revoke Bray's teaching license. The complaint was ultimately dismissed.
The teacher is striking back: Bray has started a GoFundMe page, titled "Survivor of Hate Crime Needs Help," where he has raised more than $12,800 for his living expenses. On the page, he wrote, "I was a good and dedicated teacher, who, as the result of a hate crime, lost my job and possibly ended my career."
Mic has reached out to Maumelle Charter High School and Bray for comment and will update this story as needed.