He Was the First Japanese MP to Take Paternity Leave — But There's Been a Scandalous Twist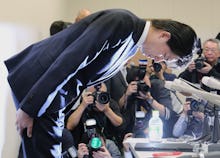 Kensuke Miyazaki knows how to make headlines. 
After making history in January by becoming the first Japanese member of parliament to take paternity leave, the 35-year-old resigned on Friday after local tabloid Shukan Bunshun reported that he used at least part of that time off to have an affair with a professional kimono dresser.
And the plot thickens: His wife, Megumi Kaneko, is also a politician, currently serving as an MP in the lower house. Miyazaki reportedly cheated on her during a trip to his constituency, Kyoto, just days before she gave birth to their child on Feb. 5.
"I plan to repent for the rest of my life," Miyazaki said in a press conference Friday, according to NBC. "I know my careless acts are inconsistent with the ideals I was advocating. For that I am deeply, deeply, deeply sorry, and resign as a member of parliament for this."
Read More: Norway Has Found a Solution to the Gender Wage Gap That America Needs to Try
Miyazaki and Kaneko both served as members of the ruling Liberal Democratic Party, headed by Prime Minister Shinzo Abe, who, incidentally, supported Miyazaki's tendentious decision to request paternity leave. 
Abe announced his goal of increasing the number of men who take paternity leave from the current 2.3% to 13% within the next four years, the Guardian reports. 
Being closely associated with the central figure of a very public and controversial national issue may well impact Abe's favorability. But what's more, the scandal could be a setback in the fight to recalibrate social norms.