These Stunning Photos Show the Raw Beauty of Home Childbirth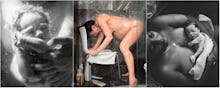 If you're not looking forward to Valentine's Day this weekend, perhaps you'll be more interested in Birth Canal-entine's Day: a lesser-known (and completely made-up) occasion that celebrates the miracle of childbirth.
Here to help get us in the spirit is the International Association of Professional Birth Photographers, which recently announced the winners of its annual Image of the Year Competition. The images are both stunning and real AF, depicting childbirth throughout various stages of labor, delivery and postpartum.
(Note: Nudity lies ahead. Perhaps you'll find it NSFW.)
The organization says on its website that it "was established to assist expectant parents who are in search of a professional birth photographer in their area." Winners of the competition were selected based on "technicality, emotionality and composition" of the photos. 
A 2013 article in Parents magazine reported that hiring photographers to capture intimate moments during childbirth is a growing trend.
"Even if you don't intend on sharing the images publicly, you will find that birth photography provides the best narrative of your birth experience," Wisconsin birth photographer Beth Skogen told the publication. "The memories you have from your birth experience won't stay with you forever. The documentary nature of this work will always call those memories back."
Indeed, these images are quite evocative.
Happy Birth Canal-entine's Day to each and every one of us!
h/t Cosmopolitan