'Unreal,' the Fake 'Bachelor,' Has a Black Suitor Before the Real 'Bachelor' Does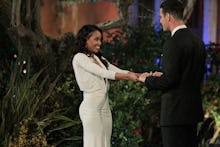 How many seasons does it take The Bachelor and The Bachelorette to have a black suitor? More than 31 — it has yet to happen in the 20 seasons of the former and 11 of the latter.
How many seasons does it take Unreal, the scathing behind-the-scenes story of a Bachelor-esque show, to have a black bachelor? Two.
As first reported by Entertainment Weekly's Shirley Li, Unreal has cast actor B.J. Britt to play the suitor in the next season of Lifetime's critically beloved drama. He'll play a pro football player cast as the subject of a new group of women's adoration on Everlasting, Unreal's version of The Bachelor. In making this choice, the creators of Unreal aren't just doing what The Bachelor hasn't for show. They're making a powerful point.
"People don't like to talk about race," Britt told Entertainment Weekly. "No one can get in trouble for [casting a black suitor] because he's a fictional character, but at the same time, we can bring [the issue] out. And so I'm very excited and very stoked to be able to play a character that's going to speak to a lot of people. It's going to make you think."
During the first season of Unreal, executive producer Quinn (Constance Zimmer) made a blunt point about the first contestant out of the gate — a black woman named Shamiqua she said wasn't wife material. "Not my fault America's racist," she said curtly.
Shamiqua didn't make it far in the competition, nor did her fellow black competitor Athena. It's a situation that mirrors real life; on this season of The Bachelor, seemingly strong contestant Jubilee was eliminated in 10th place.
In Unreal's second season, it's Quinn and her right-hand woman Rachel (Shiri Appleby) trying to use race to their advantage. This doesn't sit well with their suitor, however. "For Darius, it's like, 'Is it their story to tell?'," Britt said in his Entertainment Weekly interview. "These [are] two white women. Will Darius stand up and be like, 'This is my story to tell'? His job is to stay squeaky-clean, to be seen and not heard, so this is going to be difficult for him."
The exploration of race when it comes to The Bachelor is much needed. The show has had nonwhite bachelors (most recently Juan Pablo Galavis) but no black star, and not one bachelor or bachelorette has chosen a black winner. In a time where TV is working — albeit slowly — to become more representative of its audiences with shows like Empire, Black-ish and Scandal, The Bachelor and its spinoffs look all the more colorless.
Will Unreal inspire The Bachelor to look outside of corn-fed white men for their next seasons? Time will tell. By that point, though, the satire will have moved on. Could Everlasting have a queer suitor next?