Watch Kristen Wiig Impersonate Peyton Manning — Sorta, Kinda — on the 'Tonight Show'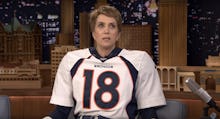 One day after Peyton Manning explained the origin of his brother Eli's Super Bowl resting bitch face on the Tonight Show, he returned again Thursday in the form of comedian Kristen Wiig taking the form of Manning.
Wiig strode onto Jimmy Fallon's set dressed in the quarterback's No. 18 Denver Broncos jersey and proceeded to proudly display her total lack of football, Super Bowl and Peyton Manning knowledge.
"I'm far away from the line, and I have to get it ... I have to get this ball to the guy," Fake Manning said of his mindset during the game, which ended in a "14-6" Denver victory. (The final score was 24-10.)
When Fallon asked whether "Manning" had a nickname for his wife, Wiig responded it was "Cookie" and that Cookie "wears a tie." 
From the rapid-fire round, we also learned:
Favorite color: Greenish
Favorite band: Maroon 5
Favorite clothing store: Sears
Favorite yoga pose: Upward dog
Read More: Kristen Wiig's Best Performances Aren't Happening in Movies — They're on Talk Shows
Wiig has a history of impersonating celebrities she has no business impersonating on Fallon's show (see also: Michael Jordan, Harry Styles, Daenerys Targaryen). It's film publicity at its worst — she was ostensibly there to promote Zoolander 2 — and television at its best. 
Watch the full interview here: