Courtney Barnett Albums, Music and More: What to Know About Best New Artist Grammy Nominee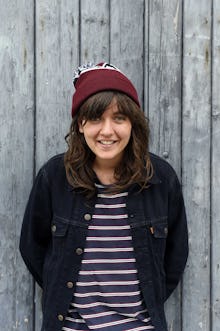 Andrew Brownbill/AP
Inimitable Australian singer-songwriter Courtney Barnett came careening into the public consciousness in 2014, after her double EP, The Double EP: A Sea of Split Peas, received widespread acclaim from critics. Though the work wasn't her first release, it was arguably responsible for increasing the artist's momentum, a trajectory that's carried her all the way to her nomination for best new artist at this year's annual Grammy Awards show. CBS will broadcast the event live from the Staples Center in Los Angeles on Monday, and the show starts at 8 p.m. EST.
For Barnett, a musician whose rise to popularity seemingly came all at once, the recognition is still a bit mind-bending. 
"I think it's just nice," Barnet told Rolling Stone, speaking of her Grammy nomination. "It kind of feels nice because of the type of music I play, and where I've come from, like putting out my own records, running my record label from my house still in Australia. And to be touring around and to then be, suddenly, on this level of recognition, on the other side of the world, feels really nice."
Read more: 
After turning 20, the 28-year-old moved to Melbourne and launched her own record label, Milk! Records, as she began recording. Before The Double EP: A Sea of Split Peas, Barnett released two EPs, 2011's I've Got A Friend Called Emily Ferris and 2013's How to Carve a Carrot into a Rose. Her debut studio album, Sometimes I Sit and Think, and Sometimes I Just Sit, hit shelves in March. 
Lyrics: All across those works, and on her most recent release, a single called "Three Packs a Day" which was released in January, Barnett's sense of humor is on display. The single, for instance, isn't about cigarettes but instead alludes to packs of ramen. Often quirky, quizzical or deeply self-aware, Barnett's lyrics serve as a lens through which she imposes the importance of life's smallest details, or flips the script by affirming the unimportance of our self-imposed neurosis.
In "Depreston," Barnett gives weight to the otherwise mundane task of house hunting. "Then I see the handrail in the shower, a collection of those canisters for coffee tea and flour," she croons, "And a photo of a young man in a van in Vietnam / And I can't think of floorboards anymore, whether the front room faces south or north / And I wonder what she bought it for."
"I want to go out / But I want to stay home," Barnett agonizes on "Nobody Really Cares If You Don't Go to the Party," giving voice to an often-unspoken but wildly relatable sentiment. Elsewhere, Barnett references her relationship with long-time partner, Australian musician Jen Cloher, and in the process, highlights domesticity's little battles. "Jen insists that we buy organic vegetables," Barnett sings on "Dead Fox," "And I must admit that I was a little skeptical at first / A little pesticide can't hurt."
Yet always, whether seemingly taxed by life's biggest or smallest challenges, Barnett is aware of both herself and her audience. "Don't ask me what I really mean," Barnett sings on "Kim's Caravan." "I am just a reflection of what you really want to see / So take what you want from me."
A rising star: In order to win best new artist during Monday night's event, Barnett will have to beat out rising stars James Bay, Sam Hunt, Tori Kelly and Meghan Trainor. Barnett expects it to be somewhat of a surreal night.
"My band is coming," Barnett told Rolling Stone. "We think it'll be fun. It'll be interesting, you know? It's totally not our world. Well, I mean, I don't know that. I can't really judge something I've never been to. But from what I've seen of it – dressing up and wearing fancy clothes and stuff – we don't really do that, so that's a start. It'll be an interesting life experience."
 While we wait for the results to roll in, check out Barnett's tour dates and delight in the spectacle that is her darling and off-kilter persona, as seen in the music video for "Pedestrian At Best."